N.E. inaugural ball caps Obama's whirlwind day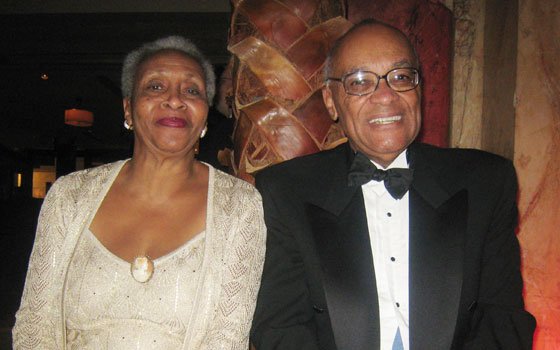 "This is the last event of inauguration day," said Obama after a brief pause. "And so, since the first lady of the United States has been doing the same thing that I've been doing except backwards and in heels, let me ask her for one last dance."
The Marine Band's sagging rendition of "At Last" then accompanied the First Couple as they took a rhythmic turn on stage, holding each other close, their smiles magnified on giant screens around the cavernous hall. The "Neighborhood Ball" might have gotten Beyoncé singing the theme song. But New England literally got the last dance.
Kathy Jones of Newton, attending the ball with her husband, former Boston University School of Social Work Dean Hubie Jones, said there was destiny in the night.
"I predicted Obama would be the next president of the United States when I heard him speak at the Democratic National Convention in Boston," she said. "I leaned over to Jesse Jackson, who was in the next box and told him, 'You paved the way for all this. It's all on your shoulders.'"
Melody Adams, a corporate account executive from Malden who helped coordinate the Obama campaign in Roxbury, called the inauguration day one of the most exciting of her life in spite of being frozen out of actually viewing the swearing-in.
"I had a coveted purple pass," said Adams, one of about 5,000 elite ticket-holders, including songstress Mariah Carey, who were turned away when security equipment at the purple entry gate broke down. "I gave my silver ticket to friends."
Adams ended up watching the inauguration along with other campaign volunteers in U.S. Sen. Edward M. Kennedy's office in the Russell Building.
"The end result was that we elected the first black president of the United States. Above all, that's what this day means," she said.
Among the non-New Englanders at the Eastern Inaugural Ball were a pair of 26-year-old fashionistas, Kenicia Cross and Angelique Michelle, who run an online wardrobe consulting business in Miami.
While schooled in the history of the struggle for voting rights, both women said the Obama campaign had a generational appeal as well, a signal that a new era had arrived.
"I'm very aware of the civil rights movement but things have changed," said Michelle, a native of Washington, D.C., who wore a sheer black chiffon dress from Versace.
"More black people are now in office. There is more entrepreneurship, more business opportunity," she said. "I base my support of Obama not on the history of the past, but on the reality of the present and what he can do. We need more black people going to college than are going to jail.
"I feel that with our new company, we have more opportunities," she added. "I feel that with this new administration, anything can happen. You feel like you can do anything."
Cross, a native of San Diego, wore a striking red Grecian gown as she watched a greatest dance hits soul band get the crowd moving. She said Obama represents something different to her than to her grandmother, who made sure she learned the sacrifices of earlier generations to pave the way for Obama's election.
"To my grandmother, Obama is the first black president," she said. "But to me, he's the first cool president."