D.C. inauguration spreads cheer, hope to the Hub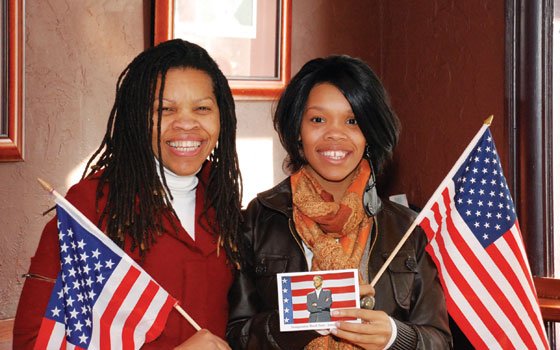 The cheers at the Cactus Club started early on Tuesday morning, when the cameras first focused in on the moving van hauling the last vestiges of the Bush administration away from the White House.
They strengthened and swelled as Aretha Franklin serenaded the country with a soaring version of "My Country, 'Tis of Thee," and they filled the room to overflowing when Barack Obama took the oath of office to become the nation's 44th — and first African American — president.
While millions gathered in Washington, D.C., to watch the inauguration in person, many Boston residents participated from home, celebrating in restaurants, community centers, churches and libraries around the city. At the Commonwealth Seminar's inauguration watch party at the Cactus Club, 250 people packed into the Boylston Street bar and restaurant, while another 30 revelers occupied a nearby overflow room.
For many at the party, the moment was as much about closing the door on George W. Bush's presidency as it was about the start of Barack Obama's term. For Ken Onyechi, one of the exuberant revelers staring at the big screens scattered throughout the bar, Obama's inauguration was a reaffirmation of the American dream.
"I'm overwhelmed [by] the fact that we made it, the fact that Barack proved America really is the land of opportunity," said Onyechi, 21, a Wentworth Institute of Technology student. "No hurdles can stop any black person from becoming president. I think today is a revitalization for the country."
Just as importantly, he added, "I think [people] just wanted somebody with character, someone they could trust and rely on to run the country."
Others in attendance echoed Onyechi's sentiments.
"This is what being an American is about," said Mishella Etienne.
In an inaugural address rife with historical references, Obama called for responsible action and citizenship, as well as a return to the ideals on which America was founded.
"We remain a young nation, but in the words of Scripture, the time has come to set aside childish things," Obama said. "Starting today, we must pick ourselves up, dust ourselves off and begin again the work of remaking America."
Cactus Club attendees said they had high hopes for the new administration.
Under Obama, "the economy's going to get better, slowly but surely," Onyechi said. "I think that America's [perception in the rest of] the world is going to change; they're going to see that America is really not a place that's so biased.
Obama spoke about the need for communal action, but much of his speech served as a rebuke to the Bush administration's actions over the last eight years.
"As for our common defense, we reject as false the choice between our safety and our ideals," he said. "Our founding fathers faced with perils that we can scarcely imagine, drafted a charter to assure the rule of law and the rights of man, a charter expanded by the blood of generations. Those ideals still light the world, and we will not give them up for expedience's sake."