Former Sox Rice, Henderson elected to Hall of Fame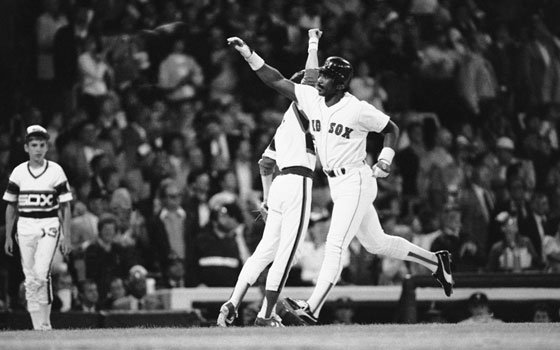 NEW YORK — Rickey Henderson sped his way into the Hall of Fame on the first ballot Monday, and Jim Rice made it in on his 15th and final try.
Henderson, baseball's career leader in runs scored and stolen bases, received 94.8 percent of the vote from the Baseball Writers' Association of America (BBWAA), well above the 75 percent needed.
Rice, among baseball's most feared hitters in the late 1970s and early 1980s, got 76.4 percent of the vote after falling just shy with 72.2 percent last year.
"The only thing I can say is I'm glad it's over with," Rice said. "I'm in there and they can't take it away."
The undisputed standard for leadoff hitters, Henderson became the 44th player elected in his first year of eligibility. Rice was only the third elected by the BBWAA in his final year, joining Red Ruffing (1967) and Ralph Kiner (1975).
The pair will be inducted into the Hall during ceremonies on July 26 in Cooperstown, N.Y. They will be joined by former Yankees and Indians second baseman Joe Gordon, elected posthumously last month by the Veterans Committee.
"I feel great about it. It's been a long time coming," said Henderson, who wanted to be a football star before excelling in pro baseball. "I was nervous, waiting."
Henderson spoke on a conference call before boarding a flight to New York. He was rushing right along, even on this day.
Only fitting.
Next up, his highly anticipated induction speech. Henderson has always had a unique way with words.
"It's really just an honor to me. I'm really just spaced out," he said. "I haven't really thought about what I'm going to say."
Rice knows exactly how he'll approach his speech.
"Believe me, it's going to be short and quick. I don't think you need to go there and talk for 15 or 20 minutes when you can get right to the point," he said. "I'm going to leave all the stories to Rickey."
Henderson was picked on 511 of 539 ballots and Rice was selected on 412, just above the 405 needed.
Rice received only 29.8 percent of the vote in 1995, when he appeared on the ballot for the first time. He initially topped 50 percent in 2000 and reached 64.8 percent in 2006 — the highest percentage for a player who wasn't elected in a later year was 63.4 by Gil Hodges in 1983, his final time on the ballot.