Film producer Walker on call for social justice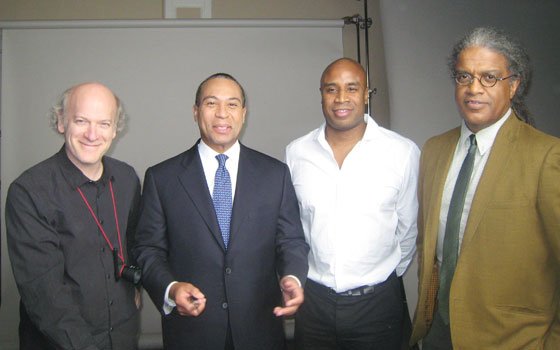 In 2004, Walker produced the Emmy-nominated, feature-length documentary "With All Deliberate Speed," a thoughtful if sometimes bleak examination of the impact of the landmark Brown v. Board of Education decision 50 years after future Justice Thurgood Marshall successfully argued the school segregation case in front of the Supreme Court.
The theme of justice resonated throughout Walker's childhood.  His father, the late John T. Walker, was the first black bishop of Washington, D.C., and a close friend of Archbishop Desmond Tutu.
Walker attended St. Albans School on the grounds of the National Cathedral, perched along the heights of Wisconsin Avenue and overlooking the more secular precincts of Georgetown and the reclaimed swampland of official Washington.
In an environment saturated with lawyers and politicians, Walker found himself gravitating to the media. He worked for a summer at D.C.'s ABC affiliate, WJLA-TV, before graduating and moving to Los Angeles in the mid-1980s, where he honed his video and audio production skills on the sets of such shows as "Bustin' Loose" and music videos like Bobby Brown's "My Prerogative."
"I woke up one day and I wasn't sure where I was taking my experience," says Walker.
A turning point occurred in June 1989, when he travelled with his father to Honduras, the poorest Spanish-speaking country in the Western Hemisphere, to make a documentary about conditions there. Soon he was covering elections in Central and South America, working on PBS' news magazine, "Rights and Wrongs," and doing commercial work in New York for Toyota, Daimler Chrysler and Hewlett Packard to keep creditors at bay.
For "The Black List," Walker choreographed interviews and managed production day-to-day — shipping equipment, hiring crew, and rarely, if ever, getting off the phone.
"Compared to filming in Sierra Leone, this was relatively simple," laughs Walker.
The conversation is interrupted by the wafting odor of Cuban tobacco. Elvis Mitchell strolls up. A taxi stops, and environmental activist Majora Carter steps out. Time to work.

"You know," says Tommy, stepping across the marble threshold, "the question you never get used to is, 'What are you doing next?'"