Families send their love to prisoners via radio shows
Associated Press | 2/25/2009, 4:04 a.m.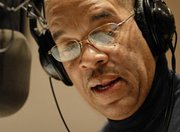 Every Saturday night when he was behind bars, Papo Gonzalez would sit in his dark cell, put on his headphones, turn on "¡Con Salsa!" and wait for his wife's words.
Eventually, the radio show's host, José Massó, would read a message just for Gonzalez: "Saludo for Papo from Luisa. Good night. I'm thinking of you."
For many prisoners, radio shows like "¡Con Salsa!" are their only connection to family and friends outside prison walls. The callers — girlfriends, fathers, wives, brothers and mothers — dedicate songs, make confessions, give news, send love, even put the voices of their children on the air.
"I'd like to dedicate a song to Carlos Moreno out in the Bay Area, 'Stand By Me,'" one female caller said recently during the California-based "Art Laboe Connection." "I just want to let you know that I love you and we miss you. … Good night."
Maria, from Albuquerque, N.M., asked Laboe to tell her husband, Junior, she couldn't wait to be back in his arms.
"We listened, hoping for a saludo from a familiar voice," the 37-year-old Gonzalez said in Spanish. "It gave us hope and made us want to go out and get straight."
Neither Massó nor Laboe remember exactly when they began getting prison "shout-outs," but they say such calls are now a big part of their weekly programs.
"People through their calls were making a connection to that soul by just saying the name and wanting to hear the name," Massó said.
The 58-year-old began "¡Con Salsa!" 34 years ago on Boston University's public radio station, 90.9 WBUR-FM, while he was a high school teacher in the city. At the time, the show was the one of few in New England that played Latin music. In addition to playing salsa artists like Hector Lavoe and El Gran Combo, Massó used the show as a community forum.
The show now runs from 10 p.m. Saturday until 3 a.m. Sunday. It can be heard in most of Massachusetts, southern New Hampshire and parts of Connecticut. Like Laboe's show, it also is streamed live online.
Gonzalez's wife, 35-year-old Luisa Peña, said "¡Con Salsa!" allowed her to keep in touch during Gonzalez's two recent stints in prison.
"It was very important because I love my husband and wanted to tell him good night," Peña said. "It was a struggle and it hurt."
The 83-year-old Laboe, an Armenian American whose real name is Arthur Egnoian, began doing radio dedications in the 1940s and was later one of the first disc jockeys to play RandB and rock music in California.
But Laboe became a folk hero among Mexican Americans when he began hosting "live dances" in El Monte, Calif., during the 1950s and 1960s, said Anthony Macias, an ethnic studies professor at the University of California-Riverside. The events were one of the few opportunities where African Americans, Latinos and whites could dance together, Macias said.
On Los Angeles's legendary KPOP, Laboe also played songs by Latino artists who couldn't get airtime on other stations.