Arts
Associated Press | 2/20/2009, 12:36 p.m.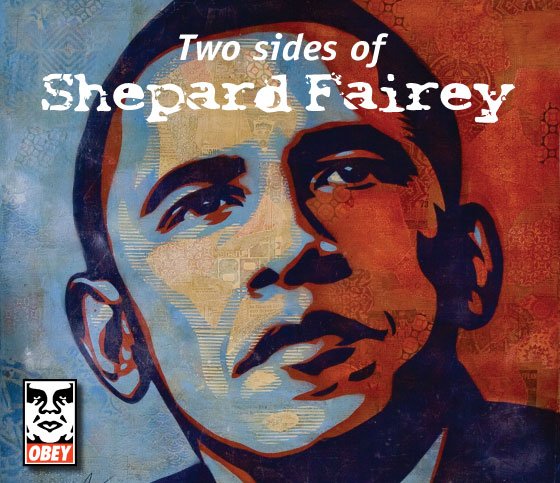 But en route to the ICA's sold-out opening night party where he was to be a guest DJ, Fairey was arrested by Boston police on a graffiti charge from 2000. Released on personal recognizance, he spent last Monday at district courthouses in Brighton and Roxbury. Meanwhile, in Manhattan, Fairey's lawyers were filing suit against the Associated Press, challenging its claim to compensation for the AP photograph that he pulled off the Internet as the basis for creating his campaign poster.
Testing boundaries is all in a day's work for Fairey, whose unauthorized use of public space to post his art had already earned him 14 prior arrests for vandalism.
Heir to an artistic tradition that includes Marcel Duchamp's 1919 reproduction of Leonardo da Vinci's "Mona Lisa" with a goatee and, 40 years later, Andy Warhol's silkscreens of Campbell's soup cans, Fairey samples the images of others' like a DJ mixes tunes. He seldom cites sources, arguing that he transforms his borrowings into new images that are protected by fair-use exceptions to copyright law.
From stamp-size stencils to refined, large-scale works from private collections and museums, the 244 works on view at the ICA until Aug. 16 follow Fairey's own 20-year campaign that started with Andre the Giant.
Although organized by themes such as music, portraiture and propaganda rather than in chronological order, the exhibition shows how far Fairey has gone with the modest, widely available tools of street art that inspired him as a teenager in Charleston, S.C.
He blends the do-it-yourself ethic and fast, low-budget devices — stencils, stickers and screen-printing — of skateboard graphics, punk T-shirts and album packaging with the images and tactics of corporate advertising and propaganda.
The works on view are a sort of cultural history. He draws from the visual language of dissent, protest and pop culture, borrowing from the styles of early Soviet Constructivist propaganda, Works Progress Administration posters of the '30s, World War II patriotic signs, '50s Americana, '60s psychedelia, and images from the wars in Vietnam and Iraq.
In 1989, while a student at the Rhode Island School of Design, Fairey stenciled the face of Andre the Giant onto stickers, T-shirts and posters. He described the experiment in street art as "a total goof at the time." But the enigmatic image caught on. Others joined him in pasting it throughout Providence and before long, posting their own bootleg versions. In a pre-Web form of viral marketing, a grassroots social network turned the image from a secret handshake among insiders into a global street-art phenomenon.
A few years later, Fairey abstracted Andre's face and combined it with the word "Obey." He was inspired by John Carpenter's 1988 camp horror movie "They Live," in which a drifter (played by another popular '80s pro wrestler, "Rowdy" Roddy Piper) finds a pair of sunglasses that lets him read the subliminal messages displayed on billboard ads, which command viewers to "Obey" and "Consume."
"It was really stupid, but had a profound premise," the boyishly handsome Fairey, 39, said during an exhibition preview, wearing a T-shirt, jeans and sneakers. "The movie crystallized a lot of what I felt but didn't know how to convey succinctly."