Theater-police partnership helps develop teen leaders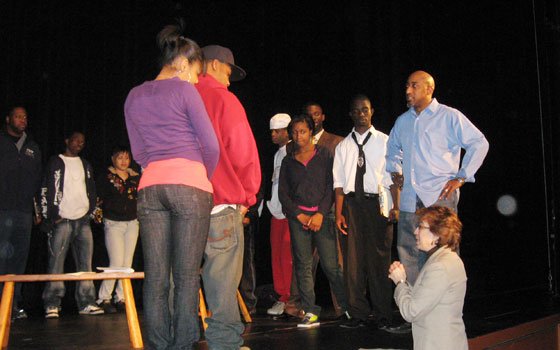 "It became a real positive movement because we kept kids out of some serious stuff," Garcia says.
The troupe was a good move for him too, as he battled his own demons, hanging out with people who were bad influences and encountering his own scuffles with the law. Though he dropped out of high school, he found his way back. After earning a GED, he began dedicating his life to helping other young kids who were lost.
"Somebody has got to be able to work with them," he explains. "I was involved in tough things in my life, and somebody helped me out, guided me."
Now Garcia has paid it forward. One of his students is a dancer with the legendary Alvin Ailey dance company. Another tracked him down years after finishing the program and embraced him with gratitude.
When asked about part-time staffer Hamilton, Garcia beams. Not only did Jermaine receive his GED last spring, he also will be attending Brandeis University in the fall.
"Jermaine and [his sister] are a pride and joy of mine," Garcia says.
However, despite the success stories, Garcia worries about what the future looks like. He admits that after 11 years of working with the students, it is getting harder and harder to reach more kids.
"This generation of children is so different than what I started out with," he says. "The reality of their future is dim. Their expectations are limited. The boys and girls are OK with hitting each other. They are OK with mistreating each other. They are OK in dealing with each other in any kind of way."
He pauses for a moment, then continues: "A lot of these kids don't care. They just don't care. They hope that what they invest their heart in won't break their heart."
So, Garcia says, he invests his heart in them.
"For me, I can say, 'I talked the talk and walked the walk,'" he says. "If it wasn't for the wrong, I wouldn't know right."
As the students prepare for their next scene, Garcia interrupts three boys playfully tousling each other while two girls watch and snap their gum with attitude.
"Why's everybody chewing gum?" he asks. The girls quickly walk to the trashcan and dispose of the distraction.
Then the teacher goes back to directing his students, putting his hands on the shoulder of one young man who seems ready and eager to listen.
Youth and Police in Partnership will be performing "Know the Law" over the next several weeks in various high schools and community centers. Those interested in attending a performance can call the Huntington Theatre for more information at 617-273-1564.