Red Sox recognize Robinson, celebrate trailblazer's remarkable life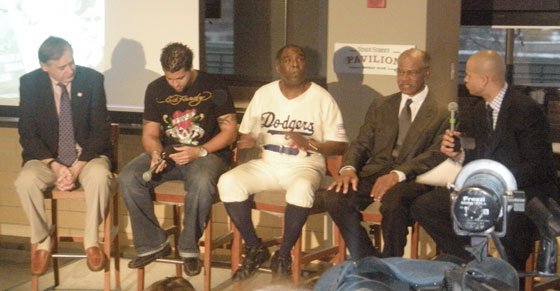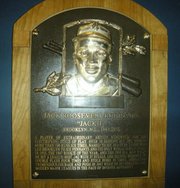 The Boston Red Sox recently opened Fenway Park's State Street Pavilion to host their seventh annual celebration of the life of Jackie Robinson, the Hall of Famer who in 1947 broke through the so-called "gentlemen's agreement" that propped up Major League Baseball's color barrier.
Jan. 31 would have been Robinson's 90th birthday. He died in 1972.
The Red Sox use the annual event as a teaching opportunity. This year, they hosted about 150 children from citywide after-school programs affiliated with the Boston Centers for Youth and Families as well as students from the Red Sox Scholars Program. At the pavilion, they treated the children to food and drinks — as well as a history lesson.
Dressed in a Brooklyn Dodgers uniform, circa 1947, Gregory Gibson Kenney — a professional actor and member of the National Baseball Hall of Fame Education and Advisory Board — re-enacted scenes from Robinson's life. He described the trials of Robinson's youth in California, growing up as part of the only black family in an all-white neighborhood. He also talked about Robinson's athletic achievements in college, running the gamut from varsity football, track, basketball and baseball.
Kenney then spoke about Robinson's time in the Negro Leagues, traveling by bus to each game for very little pay. Moving through the crowd, Kenney shook hands with many of the students, then finished his re-enactment by acting out Robinson's first hit in the big leagues, as well as his first two stolen bases.
The actor said he plays Robinson about 75 times a year as he tours the country with the Hall of Fame Education and Advisory Board.
"It's incredible to step into Jackie's shoes for a half-hour," Kenney said. "I'm overwhelmed by the response of the kids each time."
After the re-enactment, Kenney was joined on the stage by Tommy Harper, a former Red Sox outfielder who is now a player development consultant for the team; Ted Spencer, vice president and chief curator of the National Baseball Hall of Fame; and current Red Sox pitcher Manny Delcarmen, who played his high school ball at West Roxbury High School.
Harper, 68, was 7 years old when Robinson broke the color barrier.
"The same things that happened to Jackie happened to me," said Harper. "Like Jackie, I kept moving forward."
Spencer spoke about moving Robinson's Hall of Fame plaque for the tribute event. According to Spencer, at Robinson's request, his original plaque only reflected his on-field achievements. A new plaque, installed in 1997, reflects his status as Major League Baseball's first black player and also honors his work in the civil rights movement.
Delcarmen gave a current player's perspective on Robinson's achievements, as well as his lasting impact on today's game.
"Jackie Robinson changed a lot of peoples' thoughts about ethnic players," said Delcarmen. "We players complain about things that bother us these days, but it doesn't compare to what Jackie Robinson had to go through."
At the end of the tribute, the children were given baseballs bearing Robinson's number 42, which was retired by every MLB team in 1997.
Tairina Diaz, 15, of Roxbury said she was impressed with Robinson's ability to walk away from the poor treatment he received.
"If it were me, I would have fought back," said Diaz.
Kervina Alexander, 13, of Roxbury said she was inspired by Robinson's story.
"If we follow our dreams and work hard, we can be successful like Jackie Robinson," Alexander said.