Hollywood meets Haiti in Boston to fight poverty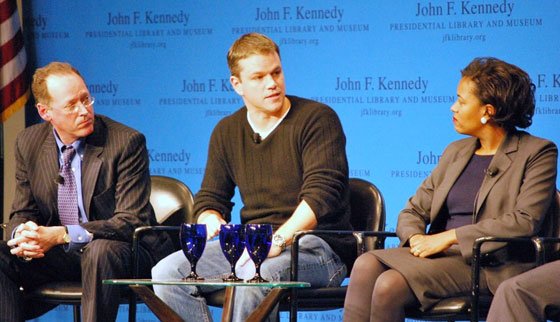 "It was disaster on top of disaster. The smell, the sight of people living on their rooftops 12 days after the hurricane had passed, almost indescribable," said the actor.
Despite the heavy talk of historical details, at times the discussion seemed light, with the audience even laughing after some comments. Moderator Amy Goodman, host of the "Democracy Now!" radio and TV shows, asked Farmer to talk about the "pink pigs" incidents.
"Haitians love pigs. At one point, the American government cited some health concerns and offered to kill and repopulate the pigs in Haiti," said Farmer.
Americans brought pigs from Iowa and constructed cement-based structures for the animals. But as Farmer explained, the plan was doomed to fail.
"It would never work. Haitians use pigs as banks. They kill one when they need to send kids to school and buy uniforms," Farmer said. "Some [say] pigs [in Haiti] have a better life than Christians.'"
Farmer, who is one of the world's most trusted authorities on Haitian history, summarized the situation in Haiti as "a graveyard of failed projects."
"Haiti created another concept for orphans, where kids are separated from parents by extreme poverty," he said.
Damon said that appealing to the world's sensibility hasn't helped to solve some of Haiti's problems, and neither has arguing that "helping Haiti is good for U.S. homeland security."
"I noticed that only pointing out effective programs works. Because [funders] want to know about the crisis, but more about the proven effective solutions," Damon said.
Audience member Gisele M. Michel said she found it heartening to see so many people interested in what goes on in Haiti.
"I'm a supporter of any means that will bring attention to [Haiti's] problems," said Michel, CEO of the consulting firm Icatalyst LLC. "But it's important that the person is knowledgeable enough to have an intelligent conversation. If it comes down to including a celebrity, I don't see anything wrong with it."
Nadege Volcy, a senior cost analyst at Harvard Medical School who came to the U.S. from Haiti at age 1, said she hopes the Obama administration will extend a helping hand to Haiti.
"Will that work? I don't know," Volcy said. "[Obama] inherited a royal mess with global proportions. But so far, I have seen what he's about. I hope Haiti gets [on] his radar and he'll address it."
At the conference's end, Farmer said it's common for the world to place blame on Haitians for not overcoming their social hurdles.
"They say it's part of the culture or somehow wired into their psychology. [They] even blame Haitians' attitude," Farmer said. "But I say they're a wonderful people. They did humanitarian work in Africa with me, and put all their hearts into it."