Arts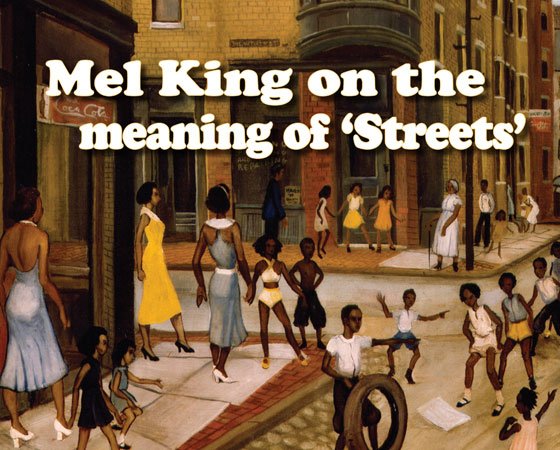 The book, which is aimed at adults and children alike, has a colorful, glossy cover and thick pages that encourage the reader to linger over the words and illustrations on each page.
"We are going to offer a hardback within the next three or four months," Alston added.
Tonight's reading and reception at Harriet Tubman House kicks off a month-long exhibit to simultaneously mark Black History Month and to honor King for "his contributions to the South End neighborhood in his depiction of urban life," said Arnesse Brown, director of the South End Center for Adult Education.
The project was a collaborative effort from the start. It took off when local media producer Rochelle Thorpe heard King read from his poem and encouraged him to put it in book form. The book is dedicated to Boston-based artist Allan Rohan Crite, who passed away in September 2007, and features two of his paintings.
"In the book, I lift him up as one who I think really chronicled life on the streets," King noted.
"Streets" also features a political poster by Susan Thompson, and Nunez's renderings of the photos include images contributed by friends and family traveling in Korea and Indonesia.
The book has been in high demand. During the interview, King paused to sign copies for Jean Gibran, of the South End Senior Center.
"A woman read from the book [at the senior center] and we looked at the New York streets," Gibran said, as the two also reminisced on the life of South End community organizer,Chris Hayes. Hayes, who founded the Neighborhood Crime Watch program, passed away earlier last week.
King recalled the fish fries Hayes would cook up for neighbors on Sundays. Fittingly, his book notes that streets are "for the civic minded organizers of block watches, flea markets parties or fish fries."
As with its timely commemoration of a beloved neighborhood figure, the scope of the poem is at once broad and specific, encompassing the cultural, metaphoric and daily implications of streets. King says that is how he intended his poem to be.
But, he added, "Streets" is very much a work in progress that he hopes will encourage readers to reflect on the role streets play in their own lives. His favorite part of the book, he says, is the last page: a blank space on which he invites you to "draw your street."
Tonight's reception and book signing will run from 6 to 8 p.m. at the Harriet Tubman House, 566 Columbus Avenue, Boston. The Harriet Tubman House is an accessible venue. This is a free event and is open to all. Light refreshments will be served. For more information, call 617-536-8610.