Wine tasting celebrates South African export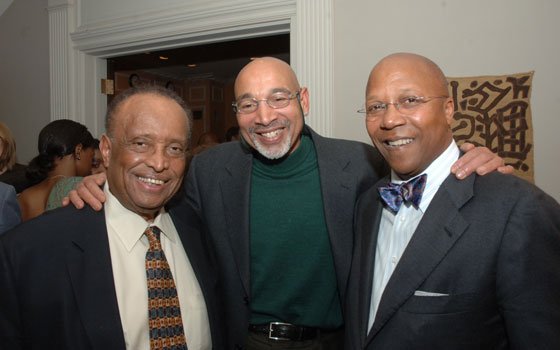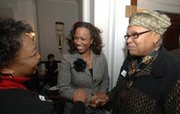 More than 100 members of the Greater Boston community, including Consul Generals Friedrich Löhr (Germany) and Leonard Kopelman (Finland), State Representative Kevin Honan, City Councilor Elect Ayanna Pressley, The Honorable Walter Carrington, former Ambassor to  Senegal and Nigeria and the always fabulous and stylish Doris Yaffe, turned out for the African Presidential Archives and Research Center's (APARC) seventh annual South African Wine Tasting on Tuesday, Dec. 8.
Ambassador Charles R. Stith, former U.S. ambassador to Tanzania and director of the African Presidential Archives and Research (APARC) at Boston University hosted the annual holiday gala, which featured Mr. Robin Back of Fairview Winery speaking about the internationally acclaimed and award-winning wines. All wines were generously provided by Vineyard Brands.
"This event was a great opportunity to reconnect with old friends and make some new ones as well," said Ambassador Stith. "But, just as importantly, it was an opportunity to showcase a booming export industry in South Africa, which dates back 350 years and generates $530 million dollars annually."
The event provided attendees an opportunity to discuss pertinent issues in African affairs and the year ahead. APARC's eighth annual African Leaders State of Africa Report, a collection of addresses from African heads of state that record the political, social, and economic trends in Africa, will be released in February. In April, APARC will host the African Presidential Roundtable, a gathering of former African heads of state, in Dar es Salaam, Tanzania, to discuss the pressing issue of land reform.
The African Presidential Archives and Research Center at Boston University was established by Ambassador Stith to accomplish several goals in the field of African studies. Chief among these are chronicling the current phase toward democratic and free market reform in Africa, encouraging a multidisciplinary approach to teaching about Africa, and establishing a forum for African heads of state to engage scholars and private and public sector leaders in developing the continent's global relationships.