The Onliest Monk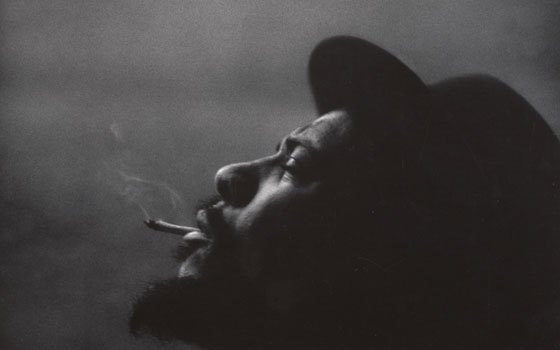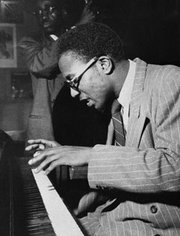 New Book Debunks Mythos of America's Most Misunderstood Musician
In the apocrypha surrounding American impressionist music, the cult of personality in literature and film about pianist Thelonious Monk plays as a broken record.
According to some, Monk was monosyllabic, eccentric, danced in circles, and wouldn't share sheet music with his sidemen. Kinder descriptions generally portrayed the so-called "High Priest of Bebop" as a childlike genius who abided in his own world.
In the biography "Thelonious Monk: The Life And Time Of An American Original," University of Southern California professor Robin D.G. Kelley challenges these mixed views.
 In this long-awaited portrait, Kelley captures the complicated man by exhaustive research that includes period interviews, rehearsal tapes, private film footage, contemporary reviews, and the recollections of club owners, managers, producers, nephews and nieces, sidemen and early fans. Based on Kelley's work, it is clear that Monk was motivated by a devotion to family, artistic integrity, and critical recognition.
Early life
Born in 1917 in Rocky Mount, North Carolina, but reared in Manhattan's San Juan Hill after the age of four, Thelonious Sphere Monk  Jr. was raised largely by his mother Barbara in a New York community that was home to saxophonist Benny Carter, pianist Freddy Johnson, reed player Russell Procope, and early Duke Ellington trumpeter "Bubber" Miley, among others.
One of his early piano teachers, Alberta Simmons, played at World War I bandleader James Reese Europe's noted Clef Club, where she befriended stride players Eubie Blake, James P. Johnson and "Fats" Waller. Her most famous student never forgot the role of stride play in shaping what the world would come to call "jazz." "Stride" is an improvisational style developed by Harlem pianists in the 1920s in which the right hand plays the melody, and the left a four-beat pulse with a bass note.
Contrary to the common magazine portrayal of Monk as a musician unschooled in and thus untainted by the classics, he was also taught by Austrian pianist-violinist Simon Wolf. He learned — as any serious young student would have — the compositions of Chopin, Liszt, Bach, Beethoven and Rachmaninoff.
By age 13, he had developed a fondness for impressionist music as taught by Ms. Simmons, an ear for the European masters, and closer to home, a knowledge of the traditional Negro spirituals favored by his North Carolinian, church-singing mother.
His first group was a teenage trio in which two friends played trumpet and drums, at local dances, rent parties, and "Audition Night" (not to be confused with "Amateur Night") at the Apollo Theatre.
Cutting sessions
In the early 1940's, Monk was exposed to the early influential players during legendary "cutting sessions" in the apartment of piano giant James P. Johnson and at Minton's Playhouse, the Harlem jam session hotspot. Those solo piano battles between accomplished stride players were as storied in musical circles as titanic one-on-one basketball duels or memorable hip hop ciphers became to New York residents later.
Many historians have described Minton's as an experimental proving ground where the elite players attempted to embarrass their less gifted counterparts off the bandstand. In Dizzy Gillespie's words "…we invented chords and tunes so…people we didn't want to play with couldn't just get on the bandstand…"