Arts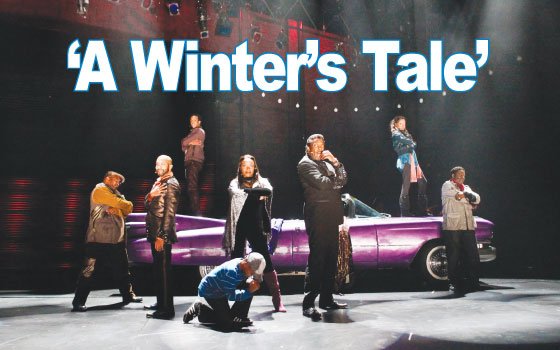 Nikkieli Demone is the couple's steadfast friend Camillo. He also plays the Bear—a streetwise tough in a furry parka. As the tough, he crosses paths with Ezekiel's factotum, 8-Ball (Lawrence Stallings) in a fateful, funny encounter.
Derricks' narrator opens Act II by announcing the passage of 16 years and the change of scene from Ezekiel's kingdom to the land of Maurice.
Borrowing a technique from Shakespeare, the first scene is a kind of show within a show. Sweet Daddy (the ever-ebullient Derricks) happily presides over a red-light district business with his two "Daughters of Joy" (Davis and Bayardelle). Also on hand are Rain, performed by Brianna Horne, whom he found as an abandoned infant and raised as his daughter, and her suitor, Tariq, played by Lawrence Stallings. He approves of the young man, unaware that he is actually a prince, the son of Maurice.
Regarding Rain as a hooker, Maurice (De Haas) commands his son to end what he considers a low-life dalliance. Singing a charged duet with Stallings, De Haas masterfully expresses his anger by drawing out some words in extended, flat notes that evoke a saxophone solo.
Reconciliation and redemption eventually prevail as the young lovers and their elders come together back in Ezekiel's kingdom. Accompanying the actors in the exuberant finale are guest singers from a variety of Greater Boston gospel choirs. On Friday evening, Dorchester's Kingdom Sanctuary Choir made a stately entrance onto the stage, raising hopes for a high-octane gospel performance. But despite the visual pizzazz, the guest choir is given a muted role, backing the cast in a pop-inflected closing number. A bit more gospel power at the close would deliver "the best of both worlds."