Suffolk's Commitment to Diversity Creates Opportunity for Students
12/9/2009, 9:34 a.m.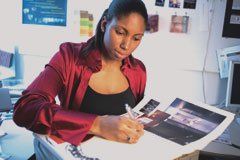 Once on campus at Suffolk, students find a wide range of organizations and resources. Student-run organizations, including the Black Student Union, Asian-American Association, Caribbean Student Network, and Hispanic Association, promote community, foster cross-cultural communication and organize campus events.
Exceptional outcomes
Diversity is nothing new to Suffolk. The university was founded more than a century ago as a part-time evening law school. Today Suffolk serves as a springboard for students pursuing their dreams in many different fields — in large international firms, small businesses, entrepreneurial enterprises, as well as government, schools and non-profit organizations.
The career of Timothy Armitage demonstrates the exciting and rewarding doors a Suffolk degree can open. Armitage earned and MS in international economics in 2005. During his time at Suffolk, he interned at the Beacon Hill Institute, a policy think tank, and at the Massachusetts Department of Revenue. Armitage is now applying his skills on a global level. As an analyst for Global Insight, an economic research firm, he studies the sub-Saharan African economies and provides forecasts of economic conditions in the region.
Catherine Headen provides another example. She earned her M.A. in Graphic Design in 2008. She is now lead designer at Gazelle, a company headquartered in Allston. "There's so much flexibility in what you can do," Headen says. "Instead of saying,  This is what you have to do,' professors ask, 'Where would you like to go with your work?'"
Other recent graduates now work at Microsoft, Procter and Gamble, Boston Public Schools, Fidelity Investments, Pfizer, Liberty Mutual and Massachusetts General Hospital.
Expansive alumni network
Armitage and Headen turned their academic pursuits into satisfying careers. Suffolk strives to guide students during this important transition from school to work. Suffolk's Office of Career Services and Cooperative Education offers extensive assistance to students in skills assessment, job search, interviewing, networking, and other elements of advancing one's career. In addition, students benefit from a dynamic and helpful alumni network. With tens of thousands of Suffolk alumni in Boston and other major cities across the country and world, both undergraduate and graduate students have the opportunity to learn from alumni working in different fields and to make valuable contacts in the sector of their choice.
The Suffolk faculty is another excellent resource for career-related information and networking as many faculty members are also active practitioners who work by day and teach in the evening. In addition, many programs offer internships that provide practical working experience and helpful contacts.
Learn more about Suffolk
To learn more about Suffolk's graduate programs, visit www.suffolk.edu, or attend the next Graduate Information Session on Feb. 4, 2010 at 6:30pm at the Omni Parker House Hotel, Boston. To reserve your place, contact the Graduate Admission Office at 617.573.8302 or grad.admission@suffolk.edu.
Suffolk University participates in the Ronald E. McNair Post-Baccalaureate Achievement Program, designed for undergraduates who are either first-generation and low-income college students or from groups who are underrepresented at the doctoral level. The McNair Scholars program encourages graduate studies by providing opportunities for undergraduates to define their goals, engage in research and develop the skills and student/faculty mentor relationships critical to success at the doctoral level. The McNair program was established by the U.S. Department of Education and named for astronaut and Challenger space shuttle crew member Ronald McNair.