Coakley wins senate primary in a landslide
Associated Press | 12/9/2009, 7:33 a.m.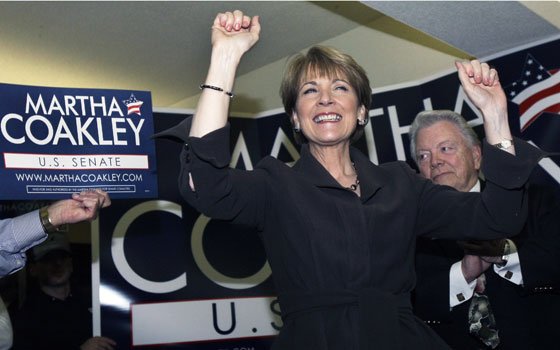 By 6 p.m, according to the Boston Globe, 52,653 ballots had been cast in Boston, a mark that represented less than 15 percent of the city's registered voters.
"This is a very unusual situation,'' said Galvin told the Associated Press. "We've never had a statewide special election. And it's in the winter, and now I'm hearing about snow. And it's coming during the holiday season."
By most accounts, Coakley climbed the professional ladder with quiet proficiency and ran her campaign without overplaying her position as the only female in the race.
"I'm still young enough to have a lot of energy to do it, but old enough to have some wisdom and experience,'' Coakley said moments after she declared her candidacy. ``And, frankly, as my Dad said when I graduated from law school, he gave me a plaque that said, `Sometimes the best man for a job is a woman.'''
Coakley was born in Lee but soon moved to North Adams, in the far northwestern corner of Massachusetts. She was one of five children for an insurance salesman and homemaker.
She went to nearby Williams College, graduating cum laude in 1975. In 1979, she received her law degree from Boston University. Coakley began her career in civil litigation at two Boston law firms, before joining the Middlesex District Attorney's office in 1986. After a stint working for the U.S. Justice Department in its Boston Organized Crime Strike Force, she returned to the DA's office and became head of its child abuse prosecution unit in 1991.
Coakley resigned in 1997 and was elected DA in Middlesex County, the most populous in the state, in 1998. She made her first statewide run in 2006 and was elected attorney general.
While in office, Coakley has pursued local cases but with an eye toward the national spotlight, including proposing to overhaul the state's wiretap statute as Massachusetts considers expanded legalized gambling.
Critics say she has burnished her record by cutting deals when she should have gone for the jugular. They cite a settlement with the Big Dig's prime contractor that resulted in no one going to jail despite a fatal 2006 tunnel ceiling collapse. Coakley blames weak state liability laws and notes she won nearly $500 million for a tunnel maintenance fund.
At their last event together before Tuesday's primary, Coakley,  Capuano, Khazei and Pagliuca kept to their typical messages and tossed out a few jokes.
Capuano told attendees that he is a "passionate, pragmatic progressive,'' in the tradition of  Kennedy. The Massachusetts congressman also suggested voters look to those who have endorsed him, if they feel they don't know him well enough. U.S. Rep. Barney Frank was one he named.
In 1998, Capuano was a five-term mayor of Somerville when he jumped into an open race for the Congressional district that gave Massachusetts Tip O'Neill and John F. Kennedy. Then-Rep. Joseph P. Kennedy II had decided not to seek re-election.
In a 10-way race that included a couple of millionaire candidates and former Boston Mayor Ray Flynn, Capuano was able to use his base of support in Somerville to capture 24 percent of the primary vote _ enough to win the Democratic nomination, and eventually the seat in Congress.
Capuano, who portrayed himself as the working class underdog in the race, was hoping to repeat that kind of upset on Tuesday.
Pagliuca, a multimillionaire, spent millions of his own money to flood television, radio and Web sites with ads as he tried to overcome a name recognition gap compared to Coakley and Capuano.
Pagliuca said voters should elect him because of his experience creating jobs, his commitment to getting a health care reform bill passed without getting caught up in ``wedge issues,'' and his refusal to take special interest money. ``I'll work for you and not them,'' he said.
Likewise, Khazei touted his refusal to take donations from political action committees and predicted his grassroots campaigners would win the election for him. He said it was the power of citizens that helped him win federal money for AmeriCorps in 2003, despite the opposition of then-Majority Leader Tom DeLay. ``He's reduced to crying on 'Dancing with the Stars' on national television and I'm running for U.S. Senate,'' he joked.
Associated Press