U.S. Senate candidates trying to court voters of color
Yawu Miller | 12/3/2009, 7:31 a.m.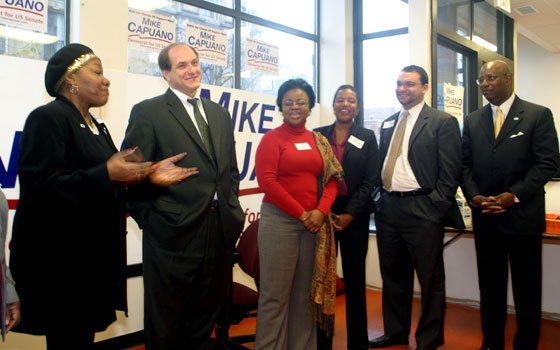 In addition to those present at his office opening, Capuano endorsers include first lady Diane Patrick, state representatives Ben Swan, Jeffrey Sanchez, Cheryl Coakley-Rivera, Geraldo Alicea and City Councilor Charles Yancey.
If his office opening was any indication, Capuano also has a good deal of grass roots support. Present were veteran Roxbury political activists, including Louis Elisa, Mimi Jones, Darnell Williams, Bob Marshal, Ego Ezedi, Angela Yarde and Faye Morrison, whose organization, Black Women for Obama for Change, endorsed Capuano.
In fact, Stephanie E. Myers and Dr. E. Faye Williams, the National Co-Chairs of the Black Women for Obama for Change, wrote and widely distributed an essay detailing their support.
"We encourage all voters — particularly African American voters and women, to support Mike Capuano — a tireless advocate for social and economic justice," they wrote. "We need his determined support to back President Obama's agenda in the U.S. Congress and to continue Senator Ted Kennedy's efforts on behalf of disenfranchised and underserved constituencies in our society. His reputation as a street fighter and tough negotiator is needed during these difficult economic times."
Councilor-elect Arroyo cited his work with Capuano on health care reform among his reasons for supporting the congressman's candidacy.
"I think more than just a liberal vote in the Senate, we need a liberal champion," said Arroyo, who worked with Capuano on health care reform. "That's what Michael Capuano is."