Sen. Edward M. Kennedy dies at 77
Associated Press | 8/26/2009, 5:37 a.m.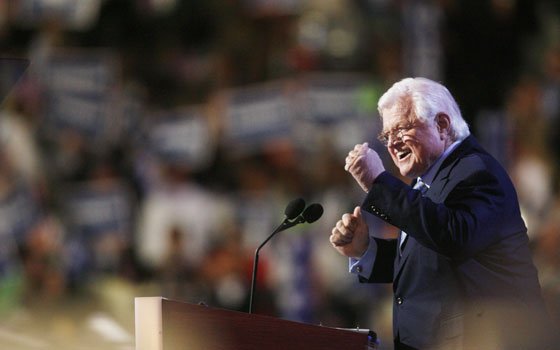 Former First Lady Nancy Reagan said that her husband and Kennedy "could always find common ground, and they had great respect for one another."
Kennedy was elected to the Senate in 1962, taking the seat that his brother John had occupied before winning the White House, and served longer than all but two senators in history.
His own hopes of reaching the White House were damaged - perhaps doomed - in 1969 by the scandal that came to be known as Chappaquiddick, an auto accident that left a young woman dead. He sought the White House more than a decade later, lost the Democratic nomination to President Jimmy Carter, and bowed out with a stirring valedictory that echoed across the decades: "For all those whose cares have been our concern, the work goes on, the cause endures, the hope still lives and the dream shall never die."
Kennedy was diagnosed with a cancerous brain tumor in May 2008 and underwent surgery and a grueling regimen of radiation and chemotherapy.
He made a surprise return to the Capitol last summer to cast the decisive vote for the Democrats on Medicare. He made sure he was there again last January to see former Senate colleague Obama sworn in as the nation's first black president, but suffered a seizure at a celebratory luncheon afterward.
He also made a surprise and forceful appearance at last summer's Democratic National Convention, where he spoke of his own illness and said health care was the cause of his life. His death occurred precisely one year later, almost to the hour.
He was away from the Senate for much of this year, leaving Republicans and Democrats to speculate about what his absence meant for the fate of Obama's health care proposals.
Under state law, Kennedy's successor will be chosen by special election. In his last known public act, the senator urged state officials to give Democratic Gov. Deval Patrick the power to name an interim replacement. But that appears unlikely, leaving Democrats in Washington with one less vote for the next several months as they struggle to pass Obama's health care legislation.
His death came less than two weeks after that of his sister Eunice Kennedy Shriver on Aug. 11. Kennedy was not present for the funeral, an indication of the precariousness of his own health.
In a recent interview with The Associated Press, Kennedy's son, U.S. Rep. Patrick Kennedy, D-R.I., said his father had defied the predictions of doctors by surviving more than a year with his fight against brain cancer.
The younger Kennedy said that gave family members a surprise blessing, as they were able to spend more time with the senator and to tell him how much he had meant to their lives.