Person's swing hits the right note at jazz fest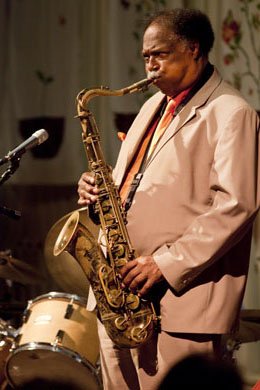 Meanwhile, Chambers maintained a subtle, supple bass line, sometimes weaving his own melodies as his splayed fingers worked his strings. White drove the rhythm, injecting textures with his brushes, adding spice with his drumsticks and occasionally exploding into solos.
As the ensemble turned the great Hoagy Carmichael composition, "Skylark," into a sweet, slow dance, Hope drifted into a few bars from another Carmichael classic, "Heart and Soul."
Next, Person picked up the pace with "Sunny Side of the Street," composed by Jimmy McHugh, playing fast, big notes that ignited White's drums into a crackling solo before easing back into the melody.
The quartet alternated between ballads and up-tempo numbers such as "Shiny Stockings" and "Let's Fall in Love," which they rendered in a bright, cha-cha style. Hope worked in a few bars of "The Surrey with the Fringe on Top" while White beat a staccato rhythm.
Among the other high points of the evening were a smoldering performance of Buddy Johnson's rhythm-and-blues classic, "Since I Fell for You," and Person's brawny, straight-ahead treatment of the Duke Ellington composition, "Don't Get Around Much Anymore," which he concluded to whistles, hoots and hollers of the grateful audience.
Person's tender execution of the Victor Young standard, "When I Fall in Love," was accompanied by the sinuous bass work of Chambers and White's subtle brushstrokes. Hope provided cool counterpoint on the piano to Person's lyrical and contemplative treatment — an essay on longing and vulnerability.
After playing almost two hours in two sets, the quartet received a standing ovation. They performed an encore — the Louis Armstrong hit, "What a Wonderful World" — as a benediction.
Hope struck a gospel tone on the piano, and Person played over and under the familiar melody with a deep timbre.
Midway through the final chorus, he called out, preacher style, "Hey — let's all stop yellin' at each other," and then brought the song, and the evening, to a soulful close.