Hub product turned soccer sensation Ryan Johnson returns home to play this Saturday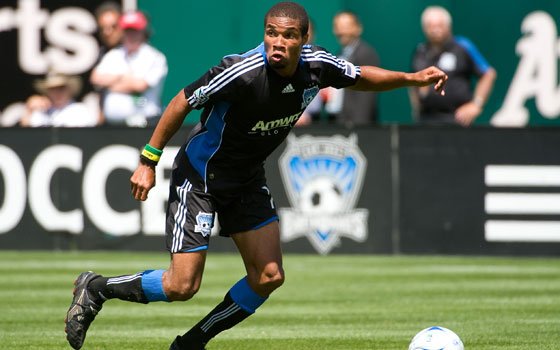 "The kids were competitive and they went after the ball and they weren't afraid to tackle. Not everyone was used to that," said Angus. "But that's soccer. As a player, what I liked about Ryan was his intensity. He was a hard tackler, a hard player. He always went after the ball."
Between Johnson's scoring exploits and a defense anchored by teammate Kareem Smith, who went on to play for Trinidad and Tobago's national side, the Dorchester Lions roared through the schedule.
"The Dorchester program was very instrumental in developing players' talents," said Angus. "We had kids who loved to play and coaches who loved to teach."
Besides Johnson and Smith, the Lions produced two other national team players — Sheanon Williams, 19, who anchors the defense for the under-20 U.S. national team and will play in the upcoming U-20 World Cup in Egypt next month; and Aaron Maund, 18, who plays for Trinidad and Tobago's U-20 squad. Williams started every game as a freshman for the University of North Carolina in 2008 and led the Tar Heels to the finals of the NCAA tournament, where they lost 1-0 to Maryland, before leaving school to pursue a professional career.
The high-quality soccer being played by the boys from Dorchester attracted attention. Scouts from elite youth clubs flocked to the sidelines. Johnson, Smith and the Angus brothers were in the first wave to move from inner-city soccer to the well-financed club programs. At age 12, they joined the Blazers of the South Shore United Soccer Club, run by Boston University coach Neil Roberts, and helped lead the team to a Region I title and a top national ranking in the U-15 division.
By age 14, Johnson was also starring for Melrose High, rising at 5 a.m. to get on a METCO bus, attend school and practice in the suburbs, and then report to Braintree to train with the Blazers.
"This is what I had to do if I wanted to become a professional," said Johnson. "There were so many distractions, but I had to put them off to concentrate on soccer."
A number of teammates from those championship seasons of the Dorchester Lions weren't so lucky — or so disciplined.
"One of the main reasons I made the decision to go to Oregon for college was the change of environment — I needed to go somewhere without all the difficulties of living in the city," said Johnson. "That was the number one reason. My focus would be entirely on my studies and my game — on everything I needed to do to become a professional player.
"When I talk to kids and give them advice, I can use myself rather than someone else as an example, because I went through it. I know what kids face."
At this stage of his career, Johnson also knows what professional athletes face. Like four teams in four years on two continents. Or sitting on the bench, waiting for a break. Contract negotiations. Endless travel. And, at San Jose, playing for a team out of the playoffs, with sniping critics and restless fans.
"This is just what you have to do," said Johnson, who is married and the father of a 3-year-old daughter, Kiana. "It's all a part of the game."
Coming into Foxborough for Saturday's match, San Jose will face a hungry New England squad trying to nail down one of two remaining wild-card spots in the MLS playoffs. The Earthquakes are coming off a dramatic 1-0 win over Kansas City, scoring in the third minute of stoppage time last Saturday at home.
Johnson makes no secret of an interest in playing closer to New England one day.
"I would love to spend more team closer to friends and family," he said. "I would love to give back — to coach and work with kids."