Sox, city groups team up to host Dot youth challenge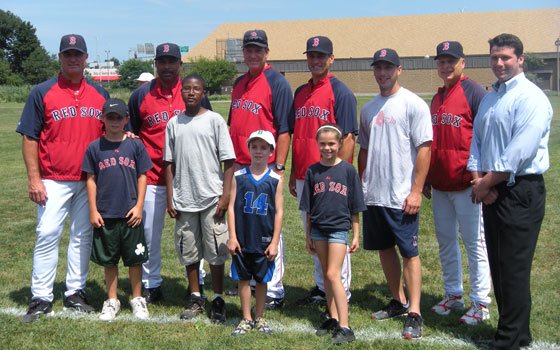 More than 150 children between the ages of 5 and 15 came out to Garvey Park in Dorchester last Tuesday to participate in the third of five Red Sox Talks and Fenway Challenge events scheduled for this year.
The daylong event, hosted by Boston Centers for Youth and Families (BCYF) in conjunction with the Boston Parks Department, begins with the Fenway Challenge, a skills competition in running, hitting and throwing for boys and girls ages 7-14.
Following the challenge, members of the Boston Red Sox organization — which sponsors the festivities, along with the Boston Police Athletic League — arrive and speak with the crowd. The speakers are always a surprise; only the Red Sox know who will be present at each outing.
Winners from the skills competition receive a ticket to a Red Sox game and recognition at the game as winners of the challenge.
BCYF Program Manager Mike Devlin said he was pleased with the attendance at this year's events.
"[The] turnout has been great, consistently over 100 kids," Devlin said.
James McGhee, a resident of Dorchester, was one of the winners at Garvey Park last Tuesday.
"My dad told me when [the Red Sox] would be at Garvey Park, so we came out," said McGhee.
McGhee, 14, is a two-time winner of the Fenway Challenge, but said he was surprised when his name was called as a winner this time "because I didn't think I did my best."
After the skills competition, Red Sox pitching coach John Farrell, bench coach Brad Mills, third base coach DeMarlo Hale, first base coach Tim Bogar, batting coach Dave Magadan and catcher George Kottaras spoke to the gathered children and adults.
As each of the coaches spoke, the message became clear — hard work and dedication are the best way to face challenges.
Farrell and Magadan stressed to the attendees the importance of surrounding themselves with people they trust and respect. Hale talked about how staying in school helped him achieve his goals, and Mills advised the kids to "give themselves a chance" and broaden their horizons.
"Hearing the message of hard work leaves an impression [on the children] when conveyed from a sports hero," said Ryan Fitzgerald, director of sports, fitness and recreation for BCYF.
Kottaras, a 26-year-old backstop who has become knuckleballer Tim Wakefield's regular catcher, answered audience questions ranging from his path to the big leagues to how he felt when he hit his first home run. He was also asked how his life has changed since joining the Red Sox.
"I've had to travel a lot since being traded to the Red Sox," said Kottaras, who began his career in the San Diego Padres organization. "I don't get to see my family as much, but I love playing."
The Red Sox Talks and Fenway Challenge will stop next at English High School in Jamaica Plain on Monday, Aug. 24, and Rogers Park in Brighton on Thursday, Aug. 27. For more information, contact BCYF at 617-635-4920, ext. 2145.