Flaherty banking on big base, small talk to unseat Menino
Yawu Miller | 8/19/2009, 5:47 a.m.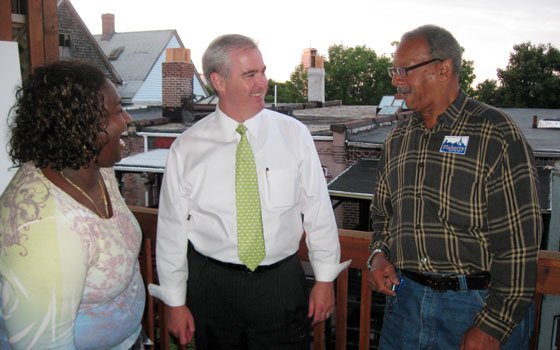 In contrast, fellow at-large councilor and mayoral hopeful Yoon was the highest vote-getter in the black community during the 2007 at-large race.
While Flaherty has often taken conservative stands on the City Council, crossing swords with the likes of Yoon, Chuck Turner and Charles C. Yancey, a more progressive Flaherty is on display in this year's mayoral election.
On his Web site, he continues to call for neighborhood schools, but adds that the city will not be ready to make the shift away from busing until all neighborhoods have equal access to quality schools.
Early in the conversation at the Melchoir home, Flaherty brought up Menino's chronic noncompliance with the Boston Residents Jobs Policy, which mandates that 50 percent of construction jobs in the city go to Boston residents, 25 percent to people of color and 10 percent to women.
"This administration clearly does not enforce the ordinance," Flaherty said. "Nor do they really monitor construction sites. People say there are so many people in our neighborhoods who aren't working and have the capability to perform well on these jobs."
For good measure, Flaherty also cited the lack of leadership by people of color in Menino's cabinet, noting that Menino has just one department head of color — Larry Mayes, the city's chief of human services — and one superintendent of color — Dr. Carol R. Johnson of the Boston Public Schools.
In all sectors of city government, Flaherty said, leadership by people of color is lacking.
"In the [Boston] Police Department, the leadership doesn't look like the face of the city," Flaherty said. "That frustrates a lot of people. My administration, my cabinet, my commissioners will look like the face of the city."
Flaherty has long relied on a strong base of support in the South Boston neighborhood where he grew up, as well as in West Roxbury and the predominantly white precincts in Dorchester. How he fares in the mayoral race may well hinge on his campaign's ability to peel black and Latino voters away from Menino and Yoon.
And much of that may depend on his ability to transcend the racial politics that historically have pitted South Boston against Roxbury.
In Melchoir's condo, Flaherty pointed to his work as a South Boston ward captain in the 1993 election of Ralph C. Martin II, the state's first black district attorney. He also poined out that he was the first Boston city councilor to endorse Barack Obama in his historic bid for president. Menino, in contrast, backed Hillary Clinton.
Political pundits point to the Menino machine's defeat in the presidential primary last year at the hands of a campaign run by political outsiders as evidence that his organization does not have the ironclad grip on power many have assumed. The Menino machine also lost big in the state's 2006 gubernatorial campaign, backing former Attorney General Thomas F. Reilly against Deval Patrick's upstart operation.
Though he's been on the City Council since 1999, Flaherty has the benefit of appearing like an outsider when compared to a 16-year incumbent like Menino, and he seems to relish that status in this race. It's served him well before; to win in '99, Flaherty noted, he had to take out the veteran Albert "Dapper" O'Neil, who had been on the council since 1971.
"They said, 'You can't beat Dapper O'Neil,'" Flaherty told Melchoir and her guests. "'He's been to more wakes than you've been to ballgames.' I beat Dapper and I'm going to beat Menino."