Transit advocates slam MBTA's fare hike plan
Yawu Miller | 8/12/2009, 9:44 a.m.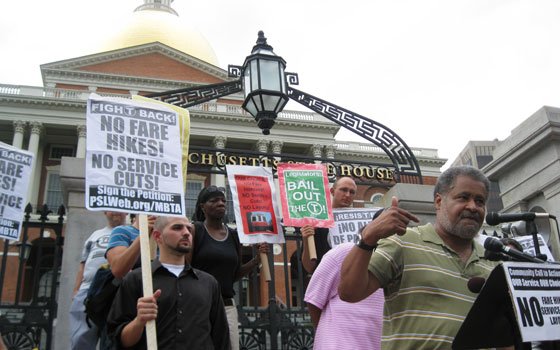 The MBTA's latest call for fare increases comes on the heels of the Legislature's appropriation of $160 million in funds meant to stave off hikes and service cuts that the MBTA had threatened earlier in the year.

The increase that had been considered by the agency would have increased fares by 19.5 percent. The cost of a subway ride for riders with CharlieCards would have increased from $1.70 to $2. The cost of a monthly pass would have risen from $59 to $69.

Speaking at the rally before the hearing, City Councilor Chuck Turner said the fare increases would affect the lowest-income commuters in the city, while higher-income commuters who drive to work have been spared a toll hike.

"The government has to protect the interests of the average and low-paid workers," he said. "People who use public transportation shouldn't be expected to pay the debt of people who drive to work."

The MBTA will pay $267 million in interest on its debt this year. According to the T Riders Union, that figure is nearly four times the revenue that would be generated by a fare increase and nearly five times the estimated savings from the proposed service cuts.

Bob Terrell, who heads the On the Move Transportation Coalition, suggested the state increase the gas tax to pay the debts incurred by the Big Dig, rather than relying on MBTA riders.

"The gas tax hasn't been raised in the last 17 years," he said. "At a minimum, the state should raise the gas tax to reflect inflation. The idea that T riders should bear the burden is ridiculous."

Public transit advocates argued that the fare increase would discourage riders from using the T and would disproportionately affect lower-paid workers.
"People are moving farther and farther out of the city for affordable rents," said Pamela Bush, who moved to Hyde Park from Jamaica Plain four years ago. "Now these people are paying higher fares. Their transportation costs are hitting the roof."

The T's call for higher fares comes after former General Manager Daniel A. Grabauskas, who stepped down last week, went public with allegations that the Patrick administration ignored his call to delay a fare hike until 2011. According to the Boston Globe, Grabauskas asserted that the agency would have sufficient revenues to operate with fares at the current level.

Patrick administration officials say Grabauskas himself advocated for the fare hikes.