Sax man's smooth sound grabs attention 'This Time Around'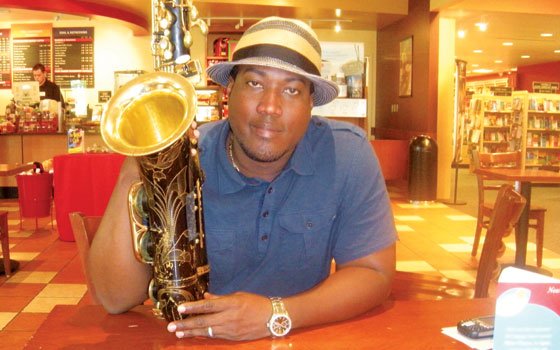 Since 2003, Trotman has been teaching music in Cambridge as part of an instrumental instruction program. He also teaches beginner band, leads a chorus and does some basic music theory for the John D. Philbrick and Wolfgang Amadeus Mozart schools in Roslindale.

"My scholarship guided me towards education, but I have a passion for teaching," Trotman said.

After he's done teaching during the day, Trotman picks up his saxophone at night and plays gigs around Boston at clubs like Slade's Bar and Grill in Roxbury. He has been so busy that he has had to pass up some big opportunities.

"I had to miss out on a gig with Alicia Keys because I had used up all my sick days," said Trotman.

As an artist, Trotman tries to keep up with trends in music. He listens to a lot of smooth jazz to further understand the genre and where it is going.

"I listen to other artists to see and hear what they do well," Trotman said.

He also likes to maintain his skills in other musical areas, playing the organ and piano for Massachusetts Avenue Baptist Church in Cambridge. And, naturally, his students help keep him up to date with their interests in popular music.

"I also try to stay on top of current music because my students are always asking me to play new stuff," Trotman said.

On "This Time Around," Trotman pushes the boundaries of what is considered smooth jazz. Tracks like "Lil' Too Late" move with a distinct rhythm similar to some of the pop sounds heard on the radio now. He said he came up with the melody for that song while waiting for a band member, who was running late to a gig.

Trotman also takes the idea of a "jazz standard" and flips it on a smooth jazz rendition of "Don't Stop Believin'," originally sung by the rock group Journey.

"I want my music to have an edge to it so that it stands out from other smooth jazz artists," Trotman said.

In that regard, Trotman seeks to be like his musical influences, like saxophonists Gerald Albright and Richard Elliott, who pushed the smooth jazz genre forward in new directions.

"I'm trying to achieve some of the same accolades as my musical influences," he said.

As both a composer and artist, Trotman feels that he is coming to a point where he can support himself just by playing music. He began recording "This Time Around" in late 2008 and completed the album in six months, working with many young musicians like himself who are working to make a name for themselves.

As Trotman works to get his name out and generate a buzz about his album, he is also keeping his initial goals realistic.

"I want to start locally and expand from there," he said.