Singing group combines musical history and historical spirituality
8/5/2009, 8:53 a.m.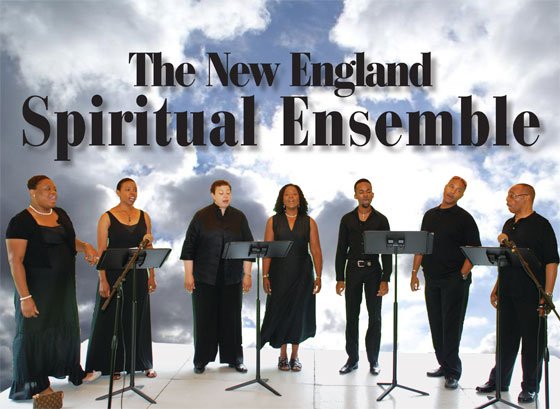 They also visit the storied Twelfth Baptist Church and Charles Street A.M.E. Church in Roxbury, both originally in the African American settlement on the south slope of Beacon Hill. In the early 1950s, the Rev. Martin Luther King Jr. was a minister at Twelfth Baptist Church, where he met his future wife, Coretta Scott, then studying at the New England Conservatory of Music.
The Ensemble is a group of conservatory-trained professional musicians. Most pursue other careers as well. Myran Parker-Brass, Ensemble co-founder and manager, directs education and community programs at the Boston Symphony Orchestra. Eleven-year member Milton L. Wright Jr. grew up in the projects of Miami, where he and his five siblings sang in local churches. A songwriter, composer and playwright, Wright was first justice of the Roxbury District Court until February, when he retired after a 16-year career as a Boston judge.
Orlando Lightfoot is a professor of psychiatry at the Boston University School of Medicine. Donnell Patterson is director of music at Belmont Hill School and Joei Marshall Perry is a classical soloist with a Master of Music degree in opera performance from the Longy School of Music. Christina DeVaughn is a management consultant with a master's degree in opera performance from Boston Conservatory.
"We bring to performances our knowledge as musicians of how to present a piece of music, what it needs to come alive," said Parker-Brass. "And as African Americans, we bring our deep understanding of where this music came from. Many of us learned these songs from our grandmothers."
Unlike its blues-inflected offspring, gospel music, traditional spirituals are the legacy of an oral tradition without known composers. And instead of the heavy instrumentation that often accompanies gospel music, spirituals are often sung a cappella with the call-and-response structure of West African music.
Community translated into musical form, this structure revels in the power of the unaccompanied human voice as well as the surging energy of an ensemble. A sort of congregation in miniature, Parker-Brass and her fellow singers interweave their distinct voices, each with its individual timbre, into embroidered overlays of sound that alternatively showcase solos and blend into one deep swell of sound.
Distilling Bible stories into personal and collective prayers and anthems, spirituals use short, forceful words and rhythmic phrases, riffs that sustain a continuous interplay of repetition and change.
No two performances of a spiritual are entirely the same. Each is an intricate, irresistible combination of drilling rhythms, precise vocal acrobatics and free-form arabesques of sound.
With each rehearsal and performance, the Ensemble renews a living oral tradition that is their inheritance, and makes it their own.
Six of the seven who performed at Longfellow House convened earlier in the week for a rehearsal at Myrtle Baptist Church in West Newton. They included Jones, Parker-Brass and Wright as well as Cynthia Harmon, Davron Munroe and David C. Howse.
"We're like siblings," said Howse, executive director of the Boston Children's Chorus, whose hometown relatives in Murfreesboro, Tenn., attended Fisk University.
The Ensemble makes all of its decisions, including choices of repertoire, by consensus, said Parker-Brass, this musical family's ebullient matriarch.