Rox film fest draws raves for fostering community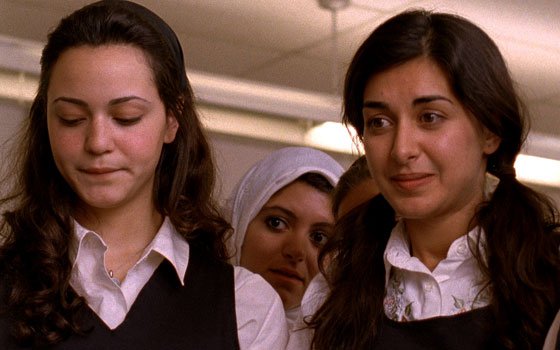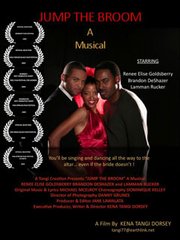 Hala, played by May El Calamawy (left) and Amal, played by Tamara Dhia (right), are shown in a scene from Raouf Zaki's "Santa Claus in Baghdad," an entry in the 2009 Roxbury Film Festival. Zaki said the festival affirmed to him that minority filmmakers have a place in national film discourse. (Photo courtesy of RA Vision Productions)
Brandon DeShazer has seen his share of glamorous film premieres and after-parties. But the Los Angeles-based actor said that last Thursday night's opening of the 11th Annual Roxbury Film Festival (RFF) swept all the others under the red carpet.
"I have never experienced anything like it," he said in an interview last Friday. "The Roxbury Film Festival has completely blown my expectations of what a film festival can pull off. This really is an event that is held by the community, and you can see that in the passion that everybody brings to the festival."
DeShazer plays a well-mannered groom-to-be in "Jump the Broom: A Musical." The film, written and directed by Kena Tangi Dorsey, was chosen as the festival's opening night film.
Dorsey, who was also in town for the screening, echoed DeShazer's high praise for the festival and raved about the opening night festivities that took place at the Museum of Fine Arts, Boston.
"The program opened with an amazing gospel choir," she began.
"Amazing!" DeShazer repeated, for emphasis.
"The house was full and there was so much love in the house," Dorsey continued. "It was the most fun I've ever had."
Dorsey said that her film, a 31-minute short about a young woman who has second thoughts about marrying her stand-up but straight-laced fiancé, aims to capture a life experience while also providing the audience with the chance to "escape and go on a journey." She chose the musical form to marry these objectives.
"These are real emotions and decisions we are faced with every day … it's kind of an organic musical," Dorsey said. "I wanted to do something that was true to life … [and also] healing and beautiful."
By exposing Boston audiences to independent films, the Roxbury Film Festival plays a crucial role in enabling filmmakers like her to continue their work, Dorsey said.
"You can tell the community loves this organization, because the organization gives back to the African American community through exposure of these films that you might not see in [mainstream theatres]," she said.
Support for local and independent filmmakers translates into support for all minority filmmakers, noted Framingham-based director Raouf Zaki. His film, "Santa Claus in Baghdad," tells the story of a young Iraqi boy living in Baghdad who believes that his uncle visiting from the United States is Santa Claus.
"I was struggling really hard to find money for this film," he explained. The Color of Film Collaborative, which is one of the festival's producing partners, became one of his project's main supporters.
The collaborative also provided a small grant that helped offset some of the expenses involved in making the film, including endeavors such as transforming a warehouse and a museum, both in Framingham, into settings as disparate as a book market and school in Baghdad.