ABCD's Coard, antipoverty movement icon, to retire
Dan Devine | 8/5/2009, 7:13 a.m.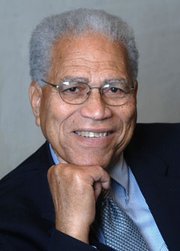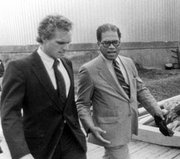 Robert M. Coard, president and CEO of Action for Boston Community Development Inc. (ABCD), announced last month that he will retire in November after more than 40 years at the antipoverty agency's helm.
After the news broke, friends and colleagues praised him as a man whose efforts impacted countless lives.
"He's a giant," said David Bradley, executive director of the National Community Action Foundation (NCAF), which he co-founded with Coard in 1981. "There's no one that has done more, no one that has meant more and no one that has been more inspirational in the movement than Bob Coard."
Thanks to Coard, ABCD now stands as a national model for community-building. The organization has an annual budget in excess of $100 million and a staff of almost 1,000 working to provide residents across Boston with services ranging from its renowned Head Start education program to financial assistance with fuel costs, housing advocacy, career development resources and more.
Coard's savvy matched his commitment, said veteran strategist Joyce Ferriabough-Bolling.
"There is no greater political mind in this city, as far as I'm concerned, than Bob Coard," she said. "To be able to stand up for folks who don't have anything and who are often marginalized — to be able to fight for them on a local and also a national stage, and to change things, to actually change the system — is no easy job."
His ability to work with legislators to promote ABCD's interests — and his willingness to hold their feet to the fire if they shied away — earned him respect. Sen. Edward M. Kennedy, D-Mass., called Coard "an irresistible advocate for the most vulnerable," while fellow Sen. John F. Kerry said Coard is "one in a million."
"He's never lost that sense of idealism, that deep in the gut conviction that he's here to help people, to give a voice to those who would otherwise get drowned out by the big interests," Kerry said in a statement.
Perhaps no one has more insight into Coard than ABCD Executive Vice President John J. Drew, his longtime lieutenant, who said he has "seen it all" over the past four decades.
"Bob has been a hero," Drew said. "Bob's leadership … I think it's helped the city flower."
It also helped develop latter-day leaders like J. Keith Motley, chancellor of the University of Massachusetts, Boston.
"He's been a tremendous role model to all of us who aspired to be leaders along the way," Motley said. "He always took the time to have words with us — even at the busiest times in his life … he always would sit us down and have conversations about what it took."
ABCD Director of Public Affairs Susan Kooperstein said Coard, 82, was unavailable for comment, citing doctor's orders that he rest up while undergoing rehabilitation following a hospital stay last month.
In what he termed "a difficult letter to write," Coard informed ABCD's staff and board of directors on July 24, 2009, of his health issues and his plans to step away.