Museum of Fine Arts examines the human form in photo exhibit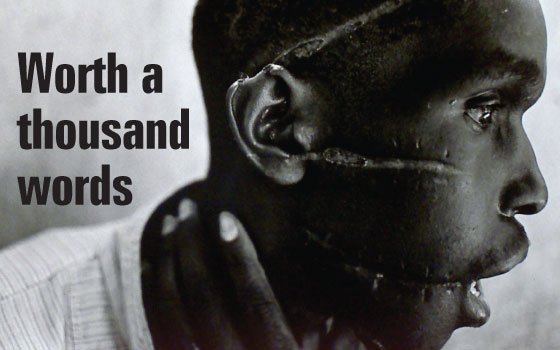 Michael Spano's "Classic Back" (1984) echoes the sensuous, elongated nudes of 19th-century French neoclassical painter Jean Auguste Dominique Ingres, who rendered the cello-like curves of a woman's back with an attention to form that predates Modernism. Spano's composition brings old-world refinement to a mundane setting. Caressing its subject in warm light, the image shows the elegant back of a woman who sits on a peeling metal chair by a radiator.
A number of photographs in the exhibit present the body in motion. A 1944 photograph by Barbara Morgan shows dancer Valerie Bettis performing her renowned work, "Desperate Heart," as her foot parts parallel waves of fabric. Only the tattooed ankles and muddy feet of two Moroccan women in full-body chadors are visible in "Converging Territories #29" (2004), by Lalla Assia Essaydi, who covers their clothing with essays in Arabic script.
The un-staged and un-manipulated images of documentary photography can likewise have great power. In "Moscow" (1990), journalist Tofik Shakhverdiev shows a trio of Russian soldiers from shoulder down, the stern geometry of their matching satchels, boots and billy clubs conveying an image of brute force.
Straightforward images can also be lyrical in effect, such as a photograph showing the rippling reflections of Budapest pedestrians in a puddle, "Untitled" (about 1930), by Imre Kinszki, a Hungarian Modernist who died in the Holocaust.
Other photographs on view use darkroom alchemy to turn eyewitness events into images of magical realism. In "Scanno" (1957-1959), Mario Giacomelli transforms a familiar scene in his Abruzzo village, located about 60 miles from L'Aquila, the Italian town recently shattered by an earthquake.
In this high-contrast image, the figures of village women swathed in black coats, scarves and hats are blurred, abstracted figures. As they make their timeless procession down the hillside from the town piazza, in the center of the composition, one figure is in sharp focus: a boy who looks straight at the camera. The photograph turns an everyday moment into an image of surprise and even awe — contrasting the eternal, anonymous and unchanging rhythm of life in a town with the verve of one particular boy.
"Photographic Figures" is on view through May 10 at the Museum of Fine Arts, Boston, located at 465 Huntington Avenue. For more information, visit http://www.mfa.org.