Hub debaters to vie for national crown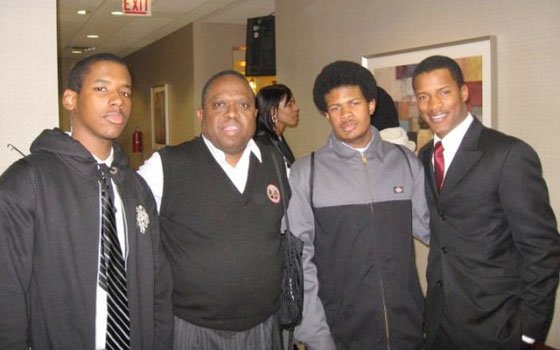 The Boston Debate League has already come a long way from its 2004 origins, when it was created by a group of volunteers, with four participating schools. In 2008, BPS Superintendent Dr. Carol R. Johnson, pledged district funding for the league, which has expanded to include eight BPS schools.
"We are so proud of these students and know they will represent Boston well in the national championship," Johnson said. "Competitive academic debate cultivates the critical thinking and communications skills, and helps build the confidence that students will need to succeed in college and career."
At the championship, students will debate this year's issue, alternative energy technologies. The four students have pre-researched both the affirmative and negative sides of the issue, since they don't know in advance which aspect of the topics they will be called upon to debate. Luckily, they've mastered contesting the question over the course of the school year.
The team of Tyrell Carter and Julio Lanzo, both Dorchester natives and juniors at APS, achieved the best record during the Boston Debate League's regular season, finishing with the Varsity City Championship title and assuring themselves a coveted spot at the national debate. Cullinane and JQUS junior Jason Mak defeated seven of the best teams in the league in a special round robin tournament to nab the second spot in nationals.
Carter and Lanzo are no strangers to the national debate. The APS pair, which boasts the highest overall scores from the school year, also competed in last year's championship, earning a spot in the elite eight.
But for Carter, eight isn't elite enough for this year.
"Hopefully this year I want to take third or fourth place at the very least, but I'm shooting for first," he said.
Confidence is just one of the qualities debating has instilled in Carter.
"Being on the debate team, I've discovered my love for reading and my thirst for knowledge," he said. "There's so much information out there that I want to retain and use in my daily life that the debate team has helped me learn."
Stein says many students enjoy debate because they feel the topics are more relevant to their lives than some lessons they may encounter in the classroom. For example, last year's debate topic was whether the U.S. should give medical aid to Africa to help the continent combat AIDS, while next year's subject will be poverty.
"It makes me feel really good that a whole lot of kids are able to argue about issues that our politicians are debating right now," Carter said.
His partner Lanzo agrees.
"What I like about debate the most is that I'm learning about what's going on in the government and discussing cases that are being debated at a national level," he said.
Lanzo, who received a scholarship to attend a summer debate camp at Emory University in Atlanta, also hopes to make it to the competition's final four this year.
He said he believes the key to succeeding in debate is "making sure I know the biggest weaknesses of my case and making them my greatest strengths."