Hub debaters to vie for national crown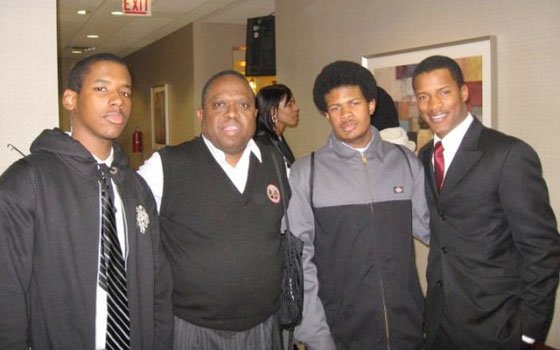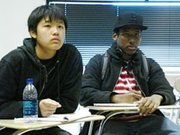 Josiah Quincy Upper School junior Jason Mak and Academy of Public Service junior Julio Lanzo are two of four students who will represent the Boston Public Schools at this weekend's Chase Urban Debate National Championship in Chicago. (Photo courtesy of Boston Public Schools)

High school senior Frezzella Cullinane's love of debate grew from another of her passions — free food.
Cullinane joined the debate team at Josiah Quincy Upper School (JQUS) at the suggestion of her history teacher, Richard Chang, who also serves as the school's debate coach. She said she continued her participation for "all the wrong reasons," namely the complimentary munchies, and that she was "bored" the majority of the time.
After several meetings, Chang told Cullinane that she would have to attend a debate if she wanted to stay enrolled in the club. She agreed. The debate changed Cullinane's life.
"I just got really intrigued by the debate and how it was structured," she said. "After I had seen one for myself, I was really excited about debate and I wanted to be in one myself. So I started studying and paying attention in practice, and it's really paid off."
Cullinane said that her involvement in debate has improved almost every aspect of her academic life, and has had an impact on her personal life as well.
"It's helped my reading skills, my ability to break things down and analyze them," Cullinane said. "I have a better understanding of different topics. It's broadened my vocabulary, helped my grades."
Most importantly, Cullinane said, it taught her to "stay faithful to an activity."
"It's helped build character in me. I had never really stuck with anything before, and when I stuck with it, I became good at it," she said. "I have drive and passion for something. It's fulfilling."
Cullinane's hard work will pay off this weekend when she and three other Boston Public Schools students compete in the prestigious Chase Urban Debate National Championship in Chicago, beginning Thursday, April 23, and running through Sunday, April 26.
The tournament, held by the National Association for Urban Debate Leagues (NAUDL), features top competitors from more than 20 Urban Debate Leagues from major cities around the country. It is sponsored by the JPMorgan Chase Foundation.
The NAUDL typically invites only one school from each urban debate league, but in special cases they invite two, according to Steve Stein, the executive director of the Boston Debate League. This year, Boston Public Schools (BPS) will send two schools to the competition, with two-person teams representing both JQUS, located in Chinatown/South End, and the Academy of Public Service (APS) in the Dorchester Education Complex.
"I think [the NAUDL] are pretty impressed with what we've done this year," Stein said. "We've gotten a ton of support from Boston Public Schools. I think [the NAUDL] looks at us as a league that's on the go and a league that has a lot of potential to do great things in Boston."