Harvard ROTC pioneer recalls his fight to serve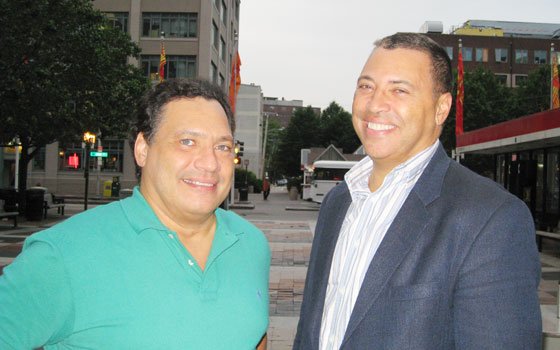 As musket fire rang out on Lexington Green this week to mark the first shots of the Revolutionary War, the thoughts of a retired soldier who grew up near the famed battle site turned to his own history of military service.
For Charles V. "Chuck" DePriest, the fight to don a uniform was as tough as anything he faced during his career as an Air Force officer.
"That was a long time ago," said DePriest from his home in Tennessee. "But every year, about this time, I can't help but think of what I had to go through to serve my country."
The struggle began close to 40 years ago with the unlikely dream of a stubborn, blue-eyed black teen from the Boston suburbs to fly to Mars.
About the time the Paris Peace Accords were signed in 1973, DePriest, a football star, science whiz and aspiring astronaut from Bedford High, mailed off his application to Harvard College.
The high school senior had nurtured his astral ambitions on the runway of nearby Hanscom Air Force Base, where he often eluded M.P.'s to sneak on the tarmac, lie on his back and suck in jet fumes as F-4s came screaming in overhead for a landing.
Four years before DePriest's high school graduation, a former Navy test pilot named Neil Armstrong had stepped on the moon. Buzz Aldrin, who piloted the Eagle lunar module, and Columbia commander Michael Collins were West Point graduates who had served in the Air Force.
The flight plan to the Red Planet, DePriest figured, clearly led through the Wild Blue Yonder.
Military and public service, even in the overheated anti-war climate of Massachusetts, were no deterrents to DePriest. In the 1920s, his great-grandfather, Oscar S. DePriest, the son of a slave, bucked the Chicago ward bosses to become the first African American elected to Congress in the 20th century. DePriest's uncle died fighting in a segregated unit in World War II.
In April 1973, DePriest got into Harvard, joining his older brother, Oscar S. "Butch" DePriest IV, on campus. But the zeitgeist in Cambridge proved an obstacle to his ambition. In 1969, the Crimson faculty had voted to boot the oldest Reserve Officers' Training Corps (ROTC) program in the country out of Harvard Yard, leaving students like DePriest with no Ivy League pathway to uniformed service.
But military education was another matter. In theory, Harvard's cross-registration agreement with the Massachusetts Institute of Technology (MIT) gave DePriest access to MIT's ROTC-sponsored military science courses and perhaps an Air Force commission.
DePriest picked up the gauntlet to challenge Harvard's ROTC policy for financial reasons as well as career ambitions, as his father, a Harvard Medical School graduate and Army veteran, was no longer supporting the family.
"During my sophomore year, with my family situation, I couldn't afford to go to school, so that was another reason to start looking into ROTC," said DePriest.
The battle, however, was more than personal. DePriest was just the latest combatant in a fight going back to the earliest days of the country for men of color from Massachusetts to serve their nation in uniform.