Inside one Harvard prof's trip to the top of the world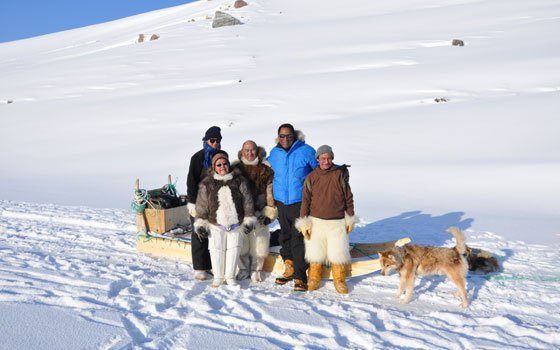 Also left out of the history books was the fact that Robert Peary and Matthew Henson both fathered sons with Polar Inuit women in 1906 in Northwest Greenland.
I explored Arctic-Northwest Greenland on a number of expeditions in the late 1980s, and discovered and befriended the Inuit offspring fathered by Commander Peary and Matthew Henson.
With the help of Polar Inuit families in Northwest Greenland and high-ranking military officials, I was able to bring the 80-year-old Inuit sons of Matthew Henson, whose name was Anaukaq, and Robert Peary, whose name was Kali, to the U.S. on military planes to meet with their American relatives for the first time — and to place wreaths at their respective fathers' graves.
This project, called the Harvard North Pole Family Reunion, took place in 1987. Anaukaq Henson, Kali Peary and their Inuit children were welcomed to America by Harvard President Derek C. Bok, and by an official message from President Ronald Reagan.
One year later, in an effort to correct another historic wrong, I requested and received an official order from the White House to remove Matthew Henson's remains from a common grave in New York's Woodlawn Cemetery, and to re-inter his body in Arlington National Cemetery among other American heroes and adjacent to Rear Admiral Robert E. Peary's grave, with a fitting new monument and full military honors.
This story captured the American ima­gination and was covered nationally in most major American newspapers. The entire episode is covered in my book, "North Pole Legacy: Black, White and Eskimo."
At the time of their celebrated visit to the U.S., I promised both Anaukaq and Kali that I would travel with members of their Inuit families to the North Pole on April 6, 2009, to commemorate the North Pole discovery by their American fathers in 1909.
I attempted to keep my word in this instance, because I knew that it would mean a great deal to both Anaukaq and Kali, proud Eskimo hunters who never knew their fathers, and who have since died. I was in regular contact with Admiral Peary's and Matthew Henson's Inuit grandchildren in the villages of Moriussaq and Qaanaaq, Greenland, near Thule Air Force Base, and they were very excited about joining me in the historic journey.
Last fall, in a meeting at Harvard with officers of the United States Air Force from Thule Air Base, I arranged to fly to the North Pole on a U.S. Air Force C-130 with skis, to land for a brief period to conduct a memorial ceremony for Matthew Henson, Robert Peary and their Inuit associates.
Unfortunately, I learned in March that an aircraft landing was not possible because of the unstable ice conditions.
I immediately arranged to fly a small, chartered aircraft from a Canadian-based company that works with the National Science Foundation in the transport of Arctic scientists. Unfortunately, the small aircraft had a limited range and seating capacity because of the need to transport fuel containers in place of passenger seats. Thus, I was limited in the number of Inuit family members that I could take to the North Pole. After discussions with the Henson and Peary families in Greenland, we decided that it was better to bring all of the Polar Inuit family members together in the village of Qaanaaq, Northwest Greenland, the northern-most inhabited settlement on Earth, to commemorate the centennial of the North Pole discovery.