Inside one Harvard prof's trip to the top of the world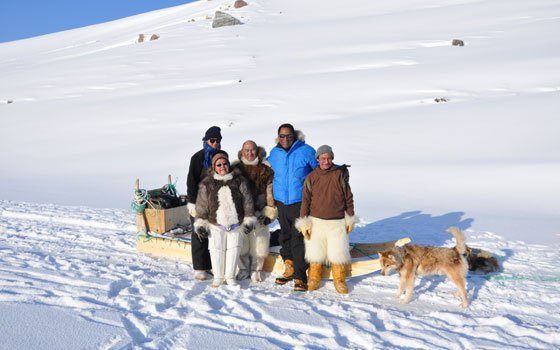 Dr. S. Allen Counter, president of the Harvard Foundation (second from right), poses for a photo with several Inuits during his recent trip to the North Pole to commemorate the legendary landmark's April 6, 1909, discovery by U.S. Navy Commander Robert Peary and Matthew Henson. (Photo courtesy of Dr. S. Allen Counter)
Dr. S. Allen Counter (left) is here seen with descendants of U.S. Navy Commander Robert Peary, Matthew Henson and Polar Inuit leader Ootah, celebrating the 100th anniversary of the April 6, 1909, discovery of the North Pole. (Photo courtesy of Dr. S. Allen Counter) 
Before embarking on his trip to the North Pole to commemorate the centennial of the discovery of the North Pole, Dr. S. Allen Counter created a multi-compartment sealed Plexiglas case that contained, among other things, a triangular American flag, a Holy Bible from Harvard's Memorial Church, copies of several books about the endeavor and a variety of Inuit cultural symbols. (Photo courtesy of Dr. S. Allen Counter)

April 6, 2009, marked the 100th anniversary of the American discovery of the North Pole. On that day in 1909, Matthew Henson, an African American, and U.S. Navy Commander Robert Peary, a European American, along with four Polar Inuits ("Eskimos") led by tribal leader Ootah, became the first humans to stand at the top of the Earth.
There is considerable scientific and other evidence today to confirm that they did indeed reach 90 degrees N, the precise North Pole. As a Navy commander, Robert Peary was on a military mission of geographic discovery. Matthew Henson, his arctic aide of 18 years, had also served the Navy as a messenger and as a field assistant, the highest positions that a "colored" man could hold in the Navy at that time.
Reaching the North Pole in the early 1900s was viewed by international leaders as tantamount to reaching the moon in our lifetime, and explorers from many nations were competing for the international honor of this prize.
Matthew Henson and Commander Peary reached the North Pole by dogsled during a time when our country was socially and culturally different than today. Unfortunately, Robert Peary alone was credited with this momentous discovery, and Matthew Henson — who, by some accounts, reached the North Pole first, and of whom the commander had said, "I cannot make it without him" — was ignored by the press and left out of the history books because of the racial attitudes in the U.S. toward African Americans at that time.