New Grove Hall library and community center now open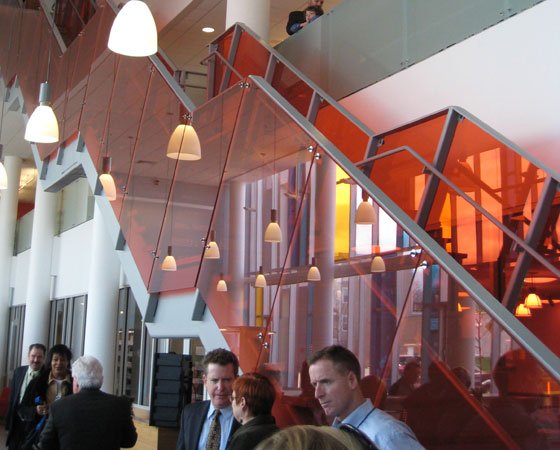 "I've always had a love for libraries, instilled by my mother," she said. Marion Taylor, now 83, works at the Grove Hall library as a shelver.
Some at the event expressed more tempered enthusiasm. Jeannette Sisco of Mattapan, a school librarian for 34 years who works at the West Roxbury Educational Complex, said she worries that a move toward combining public libraries and schools will result in funding reductions for school libraries. Burke High School has its own library on the third floor, above the Grove Hall library, but Sisco wonders if school librarians are "being buried."
From a community perspective, though, the new complex is a good addition, she said.
Daphne Griffin, executive director of Boston Centers for Youth and Families, spoke of the importance of community centers, which she said may have provided many of the adults and youth in the room their first summer job.
Project RIGHT's Kozu praised Burke Headmaster Carol Bradley Moore for working to ensure that the building design would be not only beautiful, but also practical for student use, and asked the members of the community in attendance to keep their eyes on the new building.
"As we build things up, someone always tries to tear it down," he said. "We're working together to improve stuff. Don't tear it down."