Hub artist Goodnight talks travel, teaching, exhibit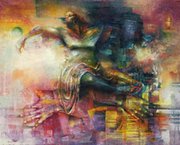 Paul Goodnight's art has graced some pretty impressive real estate. His pieces have been shown in the Museum of Fine Arts and at the Smithsonian, on the sets of "Seinfeld" and "The Cosby Show," in the 1996 Summer Olympics and on the poster for the 1998 FIFA World Cup soccer tournament. His work is also in the homes of Maya Angelou and Smokey Robinson, just to name a few personalities.
Now, through April 17, art lovers can find the Boston-based African American artist's work on display at Wheelock College. Goodnight said it's always "important to hang [your work] anywhere outside of your own domain because you have a whole different audience."
"Wheelock was kind enough to think I was worthy enough to show my work there. The people were very, very gracious," Goodnight added. "I thank everyone who comes to and enjoys my experience. I'm very pleased to be a part of it."
Wheelock College and the Towne Art Gallery opened Goodnight's exhibition of paintings, drawings and mixed media pieces on March 17, and will host an artist's reception celebrating the exhibit on Saturday afternoon.
Working in acrylic, pastels and other media, Goodnight uses a distinctive style to document the lives of people around the world, often incorporating African themes and symbols. He has studied and traveled extensively to the Caribbean, Africa, South America, China and Russia.
Goodnight said his pieces in the Wheelock exhibit are unified by his experiences not only during those travels, but also from life in Boston.
"You're looking at a tapped life of the black aesthetic, or the African American aesthetic, a snapshot of what I see, and I'm hoping to present it in a very interesting way," he said.
For Goodnight, each "snapshot" tells a story, and each story begins with people. When traveling abroad, Goodnight said he usually stays in-country for four to six months, close to or in the community he wants to learn about. He stresses the importance of living "in and around and about" the people.
"It's easier to get in touch with the people who live there because they can associate with you," Goodnight said. "There's a closer communication. It could be dangerous, but it's also very interesting. If you stay there long enough, they realize that you're not there as a tourist and they're completely different people because they don't have to put on a facade anymore. They give you a different response."
This candid view of native life, coupled with a burst of "new visuals and new energy," makes for an ideal landscape for Goodnight's work.
"When you travel in a country, all of your senses are open — you're like a child, everything is brand new to you," he said. "As soon as you come back, you want to talk about it, and I draw and paint and do whatever else I do about it, and it becomes new and it becomes an experience."
During his visits, Goodnight sketches and takes pictures of things that he thinks will help him tell his tale.