Hennigan youth hoops league gets kids active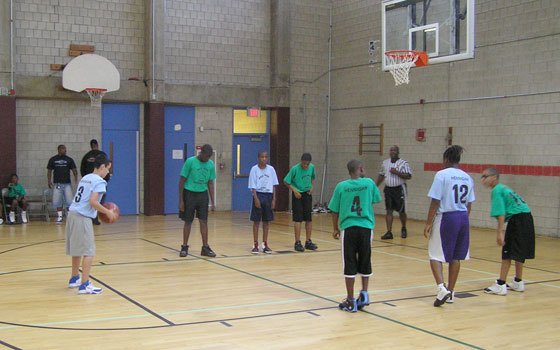 Teaching the kids the importance of sticking with those commitments is critical, according to Hennigan coach Joey Everett.
"If you can instill some discipline in these children early, you see it pay off later," said Everett, assistant coach of the "green team."
The league has also grown in parental participation. At the start, some parents — burned in the past by the disappointment of carving out time from a busy schedule just to watch their kids ride the pine in leagues where only the most talented youth get a shot — were reluctant to show up to games. But once word got out that all the children on each team were actually playing, parental turnout increased dramatically.
By the end of the summer, the continual support of parents and friends had become one of the Hennigan league's highlights.
Jamaica Plain resident Yvette Jackson had two children in the league, Karlito Delarosa, 12, and Alexander Delarosa, 9.
"I like the league because [my children] had something to do after coming home from day camp," said Jackson.
The proximity of the community center was important for Jackson, who said that because it is so close to her home, she wasn't concerned for the safety of her children.
According to coach Everett, committed parents like Jackson deserve an assist for their contributions on that front.
"All the parents come out to support the children, which helps make the league safe," he said.
From fostering community participation to providing a positive, active alternative for youth during the summer months, the Hennigan Pee Wee League scored this summer, according to Friends for Life President Eric Bradshaw.
 "It's just good to give back to the community and keep these kids out of trouble and out of the house, especially in this 'video game era,'" he said.