Healthworks Fitness gives back health and wellness to the Dorchester community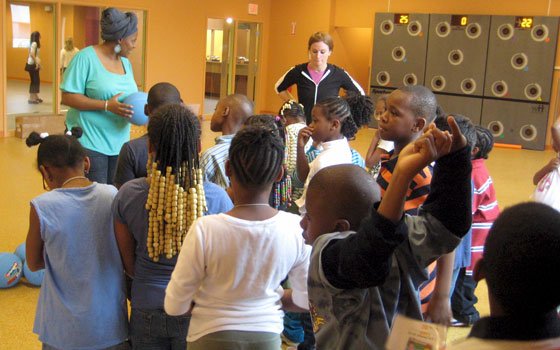 It's Friday afternoon and children are lining up to enter Healthworks at Codman in Dorchester's Codman Square to watch demonstrations on the "sport wall" — a light-up, interactive wall that keeps score and has buttons to encourage movement for different games. The children also excitedly move to the beat of Xerdance, a wall-sized interactive game where agility skills are required to keep up with the music and dance steps.
Little did these children know that they were playing an important role for Healthworks — helping to choose a Kids Director for the soon-to-be-opened Healthworks at Codman, a partnership between Healthworks Fitness Centers and Codman Square Health Center.
"The new center is just the first step to teaching kids that a serious cardiovascular workout can be fun," said Mark Harrington, president of Healthworks Fitness Centers. "The Kids Center will also work with children in areas of strength, agility and coordination. Hopefully, it will begin to change the sedentary lifestyles that exist in today's youth. Conclusively, exercise is a major factor in helping to combat the juvenile diabetes epidemic in the inner city today, not to mention childhood obesity."
Healthworks Fitness Centers Inc., which has been locally owned for over 30 years, formed the Healthworks Foundation in 1998. With five locations and over 18,000 members, Healthworks operates fitness centers exclusively for women. Revenues from Healthworks Fitness Centers, as well as significant in-kind donations from the Healthworks team and members, help to fund the Healthworks Foundation.
The foundation currently operates a not-for-profit club free of charge to about 1,000 women at St. Mary's in Upham's Corner, Dorchester. Sometime next month, the second, much larger facility will open in Codman Square at 450 Washington Street in Dorchester. In total, Healthworks Fitness Centers will contribute almost $400,000 to fund the foundation's various activities this year and over $1 million in total since its inception.
"This is what we do, it's part of our culture," said Harrington. "We have been an extremely successful local company for over 30 years. There came a point in time where it was our turn to give back and we wouldn't have it any other way. Each and every member of the Healthworks team, almost 500 strong, has a part in this. Countless members volunteer their efforts as well.
"Together, we can make a difference in the lives of others, and with us, it's delivering fitness to the inner city, where we hope to change the lives of women and children who are at risk," he continued. "We are providing them with exercise, nutrition and a healthy lifestyle — things which have never been affordable for them, or even an option."
In 1997, Healthworks was embattled in a sexual discrimination lawsuit for operating single gender fitness centers. The court ruled that Healthworks was in violation of Massachusetts' public accommodations law. After failing in its legal battle, Healthworks was able to file and pass a state law that allowed for single gender fitness centers.
"The very existence of Healthworks is due to [the] foresight of the state Legislature, which recognized the significance of exercise and the necessity of allowing women to exercise in a safe environment," said Harrington.