A record for life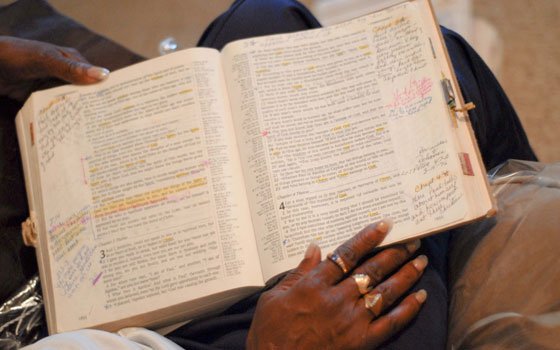 "If it wasn't for SPAN, I'd probably still be sitting in jail looking for a place to go, 'cause it's so hard to get into a program," says Mercogliano.
The problems
Getting a job is only one of a series of challenges people like Mercogliano face, says Lyn Levy, president and founder of SPAN Inc., an organization that helps ex-prisoners reenter mainstream society. Levy says ex-convicts must reinvent themselves and unlearn many of the habits they acquired in prison.
"You don't get a free ticket when you walk out of prison," says Levy. "You have to work … take care of yourself … feed yourself, put clothes on your back. You don't have any money or job. You don't know how to do those things."
And ex-inmates must face other challenges, she says, like getting used to deciding what to dress, eat and read; being a good daughter, father or neighbor; taking the steps to get an education, a loan or health insurance.
The first challenge, she says, is "to figure out their new lives."
"People come out with no money [and] … with not a lot of support," says Levy. "There's a good bit of stigma attached to being an ex-offender. Prison is a very restricted and tense atmosphere where folks are not encouraged to make decisions."
One major hurdle for many ex-convicts is overcoming drug addiction. According to Levy, at least 75 percent of people incarcerated have been through some kind of substance abuse.
Clarence Buggs, 57, is one of them. A cocaine addict, Buggs said he learned how to upholster furniture in 1975 while incarcerated at MCI-Norfolk on an armed robbery conviction.
When he was released six years later, he had a little money saved up that he earned working on the inside. He quickly found an upholstery job in downtown Boston and rented a studio in Back Bay.
"I could handle paying bills and having my own apartment and making sure all the bills were kept up and all that," says Buggs. "The only problem I really had was my education and drugs. That was my downfall."
Buggs was able to keep his life together, even though he continued to use cocaine and crack, for 12 years. But eventually, he lost control of his addiction again. Always late for work, he lost his job.
"Everything was nice, but I didn't take care of my drug [addiction]," he recalls.
Though Buggs did not go back to crime, soon he was panhandling and sleeping in shelters. The next two years, Buggs says, he spent "getting high 24/7, with no work and no nothing."
Mary Nee, executive director of hopeFound, the third-largest homeless service organization in Boston, says that about 80 percent of the homeless people that hopeFound serves have some form of addiction.
Because it's "quite typical" that a large percentage of people end up having criminal records when they have long standing addictions, Nee estimates that 50 percent of the 3,500 people who use hopeFound services every year have a criminal history.
"What we find working with homeless individuals is [that] in a large number of cases the criminal records are all related to their addictions," says Nee. "So it's not unusual that … someone who has been clean and sober for a period of time … [has] no interaction with the criminal justice system. All of their interactions occur during this time that they are active."
It was 1994 when Buggs got arrested again for a robbery he says he didn't commit. Either way, he was convicted and sentenced to another eight years in prison.
"I was angry about someone saying I did something I didn't do, but I blame myself in a way because I had my choices," he says. "I needed help, but I didn't know how to get any."
Treatment, says Levy, is often difficult to find in Boston. Residential treatment programs "are full and bursting," she says. "So being able to come out of prison into a residential setting is very, very difficult."