Arts
9/10/2008, 6:37 a.m.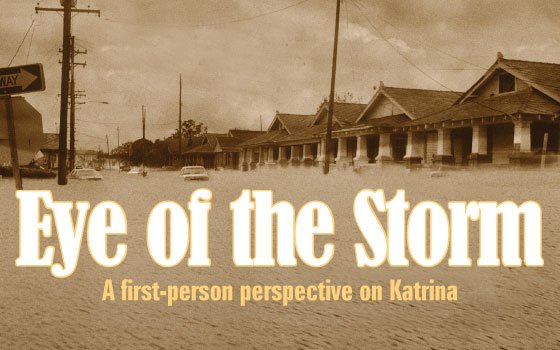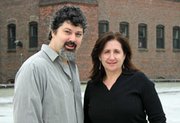 Many books and films have been made in the last three years about the tragedy of Hurricane Katrina, the worst natural disaster in U.S. history. But the new film, "Trouble the Water," opening for Greater Boston audiences on Friday, is the first documentary shot in part by Katrina survivors before, during and after the storm — giving new meaning to citizen journalism.
Outraged by the lack of support that Katrina survivors received from public officials, filmmakers Tia Lessin and Carl Deal flew down to central Louisiana to film National Guard soldiers returning from Iraq to what Lessen called "another war zone" in New Orleans. However, due to the filmmakers' work as producers and archivists on the controversial Michael Moore films "Fahrenheit 9/11" and "Bowling for Columbine," the National Guard's press office made it difficult for them to gain access to soldiers.
Luckily, a chance meeting with the film's stars helped give the filmmakers a new angle.
"We didn't find Kimberly Roberts and her husband, Scott; they actually found us," Lessen told the Banner in a recent interview. "We were filming in the National Guard parking lot, and Kimberly came in front of the camera, talking about how she is trying to be a filmmaker, too.
"We found Kimberly to be such a compelling person that we wanted to follow her and Scott around and learn about their struggles," Lessen continued. "The film starts with footage of our meeting."
An aspiring rap artist, Kimberly Roberts purchased a camcorder in the Ninth Ward neighborhood of New Orleans for $20 a week before Katrina touched down. She planned to record a birthday party. She wound up filming neighbors preparing the day before the storm hit, as well as dramatic footage of the hurricane hitting the ground. Fifteen minutes of Kimberly and Scott's home video is shown during the first half of "Trouble the Water."
Lessin said she wanted to tell a different story about Hurricane Katrina, one she felt the mainstream media was not telling.
"The media was looking to tell stories of either hopelessness or looting by a very small group of people," she said. "We thought we could tell a deeper story about how race and class played a role in this [situation]. We also set out to show that many of the survivors were very resourceful about helping themselves when they couldn't get help from others."
In the film, the Robertses are shown helping evacuate neighbors to northern Louisiana in a rented truck following the storm, and helping them locate loved ones. The couple then moves to Tennessee for a brief period. They returned to New Orleans to find their community decimated and desolate, the dead bodies of their neighbors still trapped in their homes, not yet recovered by the authorities.
Kimberly Roberts tries to keep a cool head as her brother struggles with substance abuse while fighting with the Federal Emergency Management Agency (FEMA) over getting his $2,000 disaster compensation check.
"Trouble the Water" has been well received by film critics and Katrina survivors alike, including Kimberly Roberts, who gave her blessing to the final cut last September. The film won the Grand Jury Prize at the 2008 Sundance Film Festival, and has been a financial success at most of its premieres around the country.
The Robertses have been present at many of these premieres over the last two weeks. Since filming, Kimberly Roberts has become a racial and social justice activist on behalf of her returned neighbors in the Ninth Ward. She has also recorded a rap album, two songs from which are featured in the film. However, they had to return to New Orleans abruptly last week to help evacuate their neighbors again — this time in the wake of Hurricane Gustav.
Lessin said she hopes that the emotional awakening viewers of the film are feeling will translate into votes during the November elections.
"Very little has changed in New Orleans," Lessin said. "There is a presumption that people are tired of hearing about Katrina, and that is certainly not true. We hope the city will get back on the national agenda."
"Trouble the Water" opens tomorrow at Kendall Square Cinema, 1 Kendall Square, Cambridge. For show times and ticket information, call 617-499-1996. For more information about the film, visit www.troublethewaterfilm.com.