A club supreme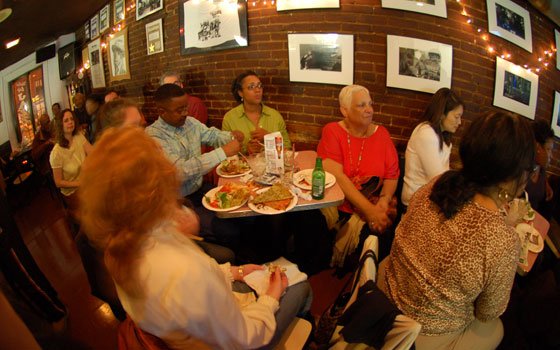 "It forced a change in the whole area," said Poindexter, noting that his grandfather "had the foresight to go to all the universities" around town and encourage students to visit his club.
Alongside the fond memories, "A Night at Wally's" also highlighted a bittersweet reality about the club's surrounding community that Roxbury and South End natives have watched disappear over the last several decades. Like Neal, several Wally's regulars described an "emotional attachment" to the neighborhood where Massachusetts and Columbus avenues intersect, and vibrate with the history of the community.
"These four corners used to be the music area," said Roxbury native Tessil Collins, who also "grew up around the corner." He and others reminisced, listing the names of some of the bygone big-name clubs of the '40s, '50s and '60s: the Big M, the Pioneer, and the more upscale Hi Hat.
Frank Poindexter explained that his grandfather, with the help of friends in city government, was able to relocate the club in 1979, moving it from the original Wally's Paradise site on 428 Massachusetts Avenue directly across the street to 427 Massachusetts Avenue, where it still stands today.
The original club had been large enough to fit the current club "two and half times," and had a bar next door, said Elynor Walcott.
"It's sad that many of the black-owned institutions are not here anymore," said Collins. "Someplace like Wally's, we celebrate at a time when we're losing many of them."
Frank Poindexter said his grandfather's club would remain as it has been for generations — a part of the community's fabric.
"We're a family-owned business, definitely committed to the city of Boston," he said. "… It's about the music and generations of consistency."
Wally's regulars like 30-year-old Lindsay Flynn of Wellesley appreciate that commitment.
"It's so important that this kind of place exists," she said. "Wally's is such a staple in the city, where you can mix with every cultural and generational background. People come that appreciate music, good company, good conversation — and it doesn't waver."
Flynn carried on a lively conversation at the bar with Marty Hughes of Cambridge, a jazz aficionado in his mid-seventies. Hughes is one of the establishment's longest-running patrons; he arrived in Boston in 1955, when Wally's Paradise was still standing.
"I loved the old jazz, and Wally's was the place to come," Hughes said. "At the time, when black jazz musicians came to town, there weren't that many places for them to go."
Having seen the community transform over the years, Hughes said he appreciates the changes that Wally and his family have weathered.
"It's amazing how they stuck it out, and it's a tribute to them," Hughes said. "[Wally] knew how to hang on to what he had and not give up. And what he was trying to do was help young jazz kids by giving them exposure.
"This was a place where the color line broke down," Hughes went on, remembering how welcoming Wally was to student musicians, "no matter where they came from."
Hughes said he can still be found taking in a jam session most Sundays.
"These students play great music," he said, and watching them helps him remember the days of John Coltrane. "I can still get psyched up on that. It takes me back on that good ol' jazz."