A club supreme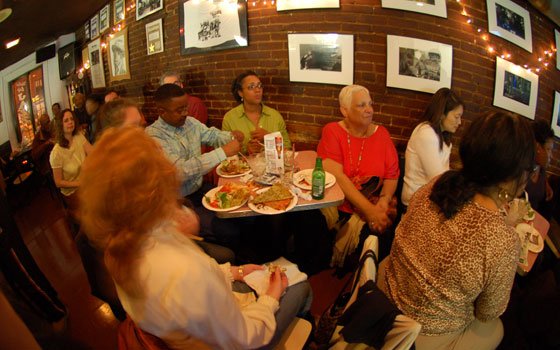 For more than 70 years, jazz greats have jammed at Wally's

Wally's Café Jazz Club has long been one of America's most cherished jazz joints. Music lovers from all over gravitate to the venerable brownstone for riveting blues, Latin jazz, funk and fusion.
On any given night, the club's tiny stage might host musicians influencing the jazz world's past, present and future. That's often the case during its Sunday jam sessions, featuring the likes of saxophonists Branford Marsalis and Donald Harrison.
But Wally's is more than a place to take in free, live music 365 days a year. As one recent look inside the club and back through its past showed, the Mass. Ave. mainstay is a family heirloom, a cultural institution and an American historical artifact.
Opened in 1934 by Joseph L. "Wally" Walcott, an immigrant from Barbados, Wally's is one of the country's oldest family-owned and -operated jazz venues, and was New England's first black-owned jazz club. Situated blocks from the musical troika of Berklee College of Music, the New England Conservatory and the Boston Conservatory, the club is an incubator for notable jazz artists like saxophonists Jimmy Greene and Andre Ward.
Originally called Wally's Paradise, the club also holds a special place in American history, having forged an abiding home in what has been a prominently black community, and treated guests to late, after-hours jams by Charlie Parker and John Coltrane.
Wally's usually fills up with patrons from all walks of Boston life, a rare coming-together that has always characterized the club's open, barrier-breaking and unpretentious reputation. Celia Granola of Roxbury said she comes to Wally's "all the time."
"It's one of the few places in Boston where every kind of person mingles," she said. "You come in and don't know who's gonna be here. It's a slice of the city."
Tony Neal, 50, said he grew up "right around the corner" from Wally's, and has been coming to the club since he was 18.
"This is my neighborhood bar," said Neal, whose father owned a real estate business on Columbus Avenue. "I come to hear live jazz and to connect with my neighbors. There aren't too many places for people of color to come together and socialize in this neighborhood."
Neal said he has witnessed his neighborhood evolve into "one large Northeastern University-slash-New England Conservatory-slash-Berklee campus." But, he said, Wally's is "totally the same place."
"It's really like two neighborhoods, the newcomers and the old-school," Neal said. "The traditional folk all know and acknowledge each other."
Neal has seen many of the country's jazz greats: "Roy Hargrove, Wynton Marsalis, Lalah Hathaway, who used to live next door to me. You name them, I've seen them."
Last Thursday, local cultural nonprofit group Discover Roxbury hosted "A Night at Wally's," giving visitors a chance to delve into the club's rich history.
Derek Lumpkins, the event's coordinator, said he expected Discover Roxbury's first nightlife outing to draw not only attendees in their fifties and above, but also those in their twenties and thirties.