Social skills program helps Hub girls learn new S.T.Y.L.E.
Talia Whyte | 10/8/2008, 4:40 a.m.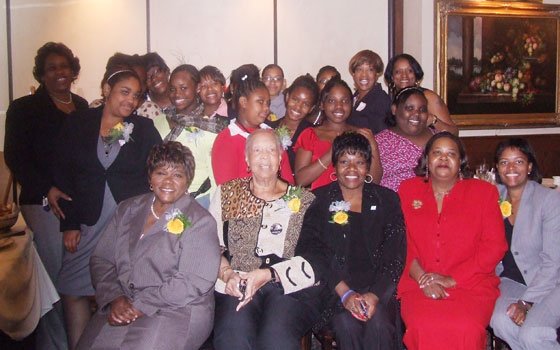 Fifteen teenage girls from across the city were honored last Saturday for taking the next step in their lives with style and grace.
Held at Maggiano's Little Italy restaurant on Columbus Avenue, the Urban Young Women's Career Forum luncheon gave Greater Boston's young ladies a chance to learn about career and networking opportunities from a diverse panel of female professionals.
It also served as a graduation of sorts for those who participated in the S.T.Y.L.E program. Developed in August by Mattapan's Final Touch with Class Boutique and the Mildred Avenue Community Center, the initiative received a grant from the City of Boston to groom young girls in the fine art of etiquette, while helping them develop the self-esteem and social skills needed to succeed as adults.
"We started this because teaching social skills to our youth has become a forgotten art form," said program coordinator Catherine Hardaway. "Many parents don't have the time today, and we want to make sure these girls have the right skills to go forward in life."
Roxbury resident Violet Burch entered her daughter, Oneida Chalifour Burch, into the S.T.Y.L.E. program, and said she is more than satisfied with the results.
"As a single parent, I approach parenting from a village perspective," the elder Burch said. "These are resources in the community that should be used to the fullest."
Her daughter, a 17-year-old student at Learning Prep School in West Newton, wanted to get involved with the program because of the training workshops on building confidence and on how to present oneself. Oneida Chalifour Burch counts her mother as one of her role models, but said she also looks up to rapper-turned-actress Queen Latifah and Academy Award-winning actress Jennifer Hudson for their work promoting the development of positive, healthy body images for women.
"I think it's important for girls to learn about being professional and how to respect ourselves," Chalifour Burch said. "This program has affected my self-confidence and how I present myself to others."
One of the oldest participants in the S.T.Y.L.E. program, Chalifour Burch took a leadership role, providing support for the group's younger members. Her mentoring experience led her to decide that she would like to become a teacher or guidance counselor when she graduates from college.
For her part, Hardaway said she wanted the program to create a bond and a support system that young black girls could rely on for help. She said that at one point or another in her life, she has had to lean on all of the invited panelists, including state Reps. Linda Dorcena Forry, Willie Mae Allen and Gloria Fox; Candace Sealey, a neighborhood liaison in the office of U.S. Rep. Michael Capuano; ex-METCO chief Thelma Callender-Burns; and Charlotte Golar Richie, senior director of legislative and community affairs for Gov. Deval Patrick.
Golar Richie said that she has also depended on her fellow panelists to advise her throughout her career. A former Peace Corps volunteer in Kenya, she started out in a career in journalism before entering the political arena, serving as a state representative and as director of the city's Department of Neighborhood Development before joining the Patrick administration.
"You can't do certain things in life without the right kinds of people to help guide you," she said. "All the women in this room are hard workers and are responsible for helping me get to where I am in life."
Golar Richie has also paid that debt forward; when she was a state representative in the 1990s, she served as a mentor to a legislative aide named Linda Dorcena Forry. Now a state representative herself, Dorcena Forry shared some advice with the young women at last Saturday's luncheon.
"Treat people the way you would want people to treat you," she said. "That is the only way you will get ahead in life."
Hardaway said she would like to expand the S.T.Y.L.E. program over the course of a full school year and follow up on the Mildred Avenue Community Center's request to create a program, pending further funding, for younger, middle school-aged girls.
"All young girls should have the opportunity to learn about becoming young, successful women," she said.