Patrick wants turnpike changes as state revenues
Associated Press | 10/8/2008, 5:45 a.m.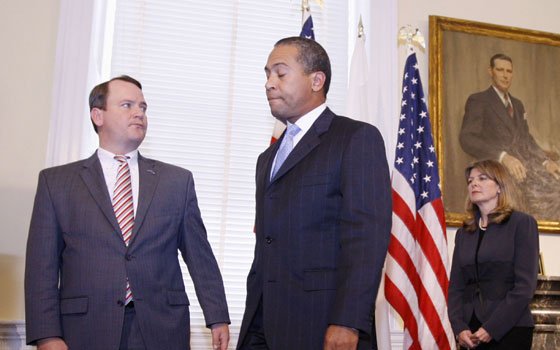 The president of the pro-business Massachusetts Taxpayers Foundation, Michael Widmer, questioned the savings of any such move and said it might create political divisiveness at a time when lawmakers had to unite behind budget cutting.
The credit rating agency Moody's Investors Services last Thursday downgraded the Turnpike's bond rating citing in part "continued delayed decision-making on toll increases and the potential for traffic and revenue declines in a slowing economy."
Massachusetts Turnpike Authority spokesman Mac Daniel said the downgrade was disappointing, but not unexpected.
"It's further evidence of our serious fiscal situation at the Turnpike," he said. "We further believe this supports the Governor's recognition that real reform is needed at the Turnpike Authority."
The Republican leaders of the House and Senate, state Rep. Bradley Jones and state Sen. Richard Tisei, said in their own joint statement that the state should institute a hiring freeze, begin no new programs and halt expansion of existing programs. They noted all their party members in the Legislature voted against the 2009 budget.
"The immediate problems that we're facing today are not due solely to the events of the last few weeks, but more so as a result of overspending and lack of fiscal discipline earlier this year," Jones and Tisei said.
Patrick said he envisioned some toll relief if he can eliminate the Turnpike Authority, but he did not say how that would be achieved or what effect assuming the authority's Big Dig debt would have on the state budget. He said he would file legislation for the merger with his fiscal 2010 budget request in January.
The governor hinted he may take a second shot at legalizing casino gambling in Massachusetts, which DiMasi helped defeat earlier this year. Patrick had projected it would generate at least $600 million in one-time licensing fees and $400 million in annual tax revenues.
"I think we'll have to see," he said. "You know, it's a new legislative session coming up in January."
The governor said he would aim to avoid any cuts in state aid payments to cities and towns, as well as education assistance. Both are pivotal building blocks of municipal budgets.
"That is my last resort," Patrick said, "because cutting local aid and Chapter 70 just leads to increases in [local] property taxes."
(Associated Press)