Parallels drawn between South Sudan, Darfur wars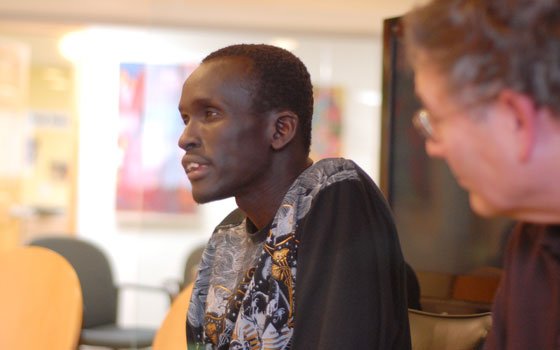 According to Mangok Bol, the second speaker last Sunday, religious tensions were the reason why the South Sudan conflict started in 1983. His people did not give up their Christian beliefs, and fought the uneven distribution of resources for the south. The problem started when colonizing nation Great Britain handed power over only to the Arab north representatives, which started trying to Islamize the country.
"Southern Sudanese were not against Islam. Southern Sudanese were fighting for equal rights in their own country," said Mangok. "There are two major ethnicities in Sudan, and 70 percent of the country are black Africans."
Mangok is one of the 3,800 orphaned Southern Sudanese youngsters called the Lost Boys of Sudan, war survivors brought to America in 2001.
"[Mangok and other Lost Boys] went through exactly the kind of situation that the Darfurians are going through right now," explained Chanoff.
In 1987, Southern Sudanese children were separated from their families to escape a sudden massive attack of northern groups. Mangok started a three-month journey on foot through the wilderness of Sudan. He was about 9 years old when he trekked more than 1,000 miles to Ethiopia along with his older cousin and other 25,000 people — most of them small children.
The ones who fled faced unimaginable dangers. Thousands died from starvation, thirst and militia attacks. The ones who stayed were mostly killed or taken to the north as slaves.
"I've seen so many things — terrible things," said Mangok. "We escaped bombardments, we saw people being killed. It became part of us."
After three years living in Ethiopia, the survivors were attacked again in the refugee camp and the Lost Boys had to run once more, this time 1,000 miles back to Sudan. Many more succumbed to natural predators like lions, hyenas and crocodiles, or drowned while crossing rivers during the rainy season.
About half of the people who started the journey in 1987 perished before reaching the Sudanese border. The United Nations sent the survivors in trucks to Kakuma refugee camp in Kenya, where they lived with little food or education until the winter of 2000-2001.
That is when the United States brought 3,500 of the Lost Boys here. Several Christian churches and organizations such as SEF helped the Lost Boys establish themselves in America.
The next speaker in the lecture series, Lost Boy Bol Riiny, works at the center and will tell the story of the Lost Boys and Girls on Oct. 12. Francis Bok, author of "Escape from Slavery," will talk about slavery in South Sudan on Oct. 19, and Sudanese artist and teacher Atem Alue will give a tour of paintings created by his students from the Kakuma refugee camp on Oct. 26.
The lectures will take place at the South Sudanese Community Center, 61 Massachusetts Avenue, Arlington. For more information, visit www.sudaneseeducationfund.org.