'American Blackout' looks at the recent past and asks: Will all of our votes count?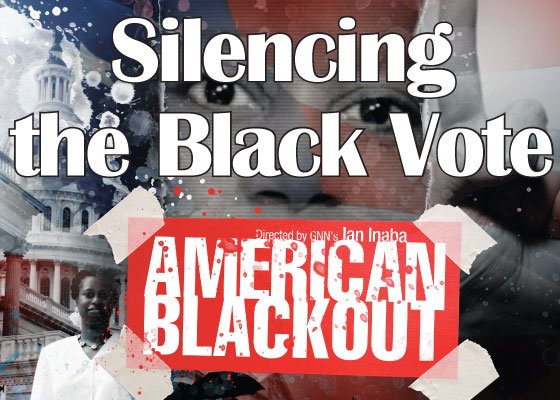 Amee Chew, a community activist helping to organize the local screenings of "American Blackout," said she was first drawn to the film through her interest in McKinney's third-party campaign.
"When I first saw 'American Blackout,' it reminded me of documentaries about the voting rights struggles of the civil rights movement and made me think about what it means to roll back those gains," said Chew.
"American Blackout" also calls attention to efforts — similar to those seen in Florida in 2000 — that prevented thousands of black voters in Ohio from casting ballots in 2004.
In cities like Columbus and Cincinnati, where record numbers of new voters had been registered, election officials took voting machines out of some urban precincts and moved them to the suburbs. With only a handful of voting machines in those city polling places, thousands waited in two- or three-hour-long lines. Others had their registration challenged by election officials and were only able to vote by provisional ballot.
Some fear a repeat of the occurrences in that crucial swing state in the 2004 presidential election in other swing states this time around.
Ohio and Florida have again purged tens of thousands of names from state voting lists by using methods that disproportionately impact African Americans. In Indiana, election officials will be guided by a controversial law passed in 2005 that requires voters to produce a driver's license or a passport at the polls. Published reports out of Michigan have stated that Republican officials plan to challenge the eligibility of voters who have lost their homes to foreclosure.
"We are sold a lot of propaganda on what voting means, but there are a lot of shocking things about the way the electoral system gets used to rob us of what little influence we have," said Chew.
In Massachusetts, Chew pointed to longtime incumbent Second Suffolk District state Sen. Dianne Wilkerson's recent loss by just 213 votes to Sonia Chang-Diaz in the Sept. 16 Democratic primary election. Chew compared Wilkerson's loss to the targeting of McKinney, specifically citing the change of several Second Suffolk voting locations the week before the primary took place.
"In both instances, there was voter disenfranchisement in a racist way, whether it was voters crossing over to vote in the Democratic primary or the way they switched all the polling places in the last minute," she said. "In both instances, people with power find a way to beat the system, even against Democrats."
"American Blackout" will be screened tomorrow, Oct. 10, at 6 p.m. at the Democracy Center, 45 Mt. Auburn Street, Cambridge, and next Thursday, Oct. 16, at 5:30 p.m. at Alternatives for Community and Environment, 2181 Washington Street, Roxbury.
For more information, visit www.americanblackout.org.