We the people
11/5/2008, 4:40 a.m.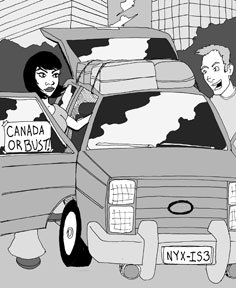 We the people
"I guess we don't need
to be moving to Canada."
Barack Obama has been elected president of the United States and the whole world is elated. Progressive whites, African Americans, Latinos and Asians have come together to vote for change. Despite the economic recession, a spirit of optimism has gripped the country.
The theme of "change" is often invoked in political campaigns, but it usually means no more just throwing out the incumbents and installing a new batch of politicians. The change inspired and represented by Obama means much more than that. He is calling upon the nation to reinvent itself so that we might have prosperity for all at home and the chance to regain the respect of the world.
More than most citizens, Obama has consciously embraced the principles that make America great. Implicit in his political philosophy is the language of the Declaration of Independence: "We hold these truths to be self-evident, that all men are created equal, that they are endowed by their Creator with certain unalienable Rights, that among these are Life, Liberty and the pursuit of Happiness."
Voters flocked to Obama because most Americans subconsciously yearn for a society that is faithful to the creed expressed by the nation's founders in 1776. It had become apparent to most voters that the present administration has developed into an association of the affluent that seems to feel little obligation to pursue government policies that will benefit everyone.
It will take time for Obama to right the ship of state, but the very fact that Obama could be elected as the leader of this nation sends an important message. Many citizens share the desire to move beyond America's racist past. Obama's victory should provide substantial evidence to racial minorities that opportunity is unlimited for those who are well-educated, hardworking and self-disciplined.
It is indeed a time for optimism!
Tragically misled
Nothing destroys the future prospects of a young African American more than facing life with a criminal record. An arrest for any charge will create a permanent stain, giving black Massachusetts youth a Criminal Offender Record Information (CORI) report that prospective employers or school administrators will review when it is time to apply for a job, college scholarship or student loan.
Although the young do not always realize it, the very existence of a CORI is a great disadvantage. Common sense would suggest that once an individual is acquitted of a crime, the associated CORI would be expunged, but that is not the case. The CORI remains, like a perpetually demeaning scarlet letter.
One must wonder, then, why the religious leaders of Boston's black community believe it advantageous to so brand local residents apprehended with 1 ounce or less of marijuana. Ballot Question 2 provided the opportunity to treat such offenses as civil violations rather than a crime. A coalition of black ministers last week announced their opposition to passage of Question 2.
While under Question 2, possession of up to 1 ounce of marijuana would result in neither an arrest nor a CORI, there would definitely be official intervention. Violators would be fined $100 or more and officials would notify the parents of offenders younger than 18. Youthful offenders would be able to enroll in a drug awareness program that includes the performance of public service.
It is known that the state's drug laws are often enforced more vigorously against black defendants. Sydney Hanlon, presiding justice of the Dorchester District Court, said in a 2000 CommonWealth magazine report on prosecutorial discrimination that "… white defendants, particularly from the suburbs, … were not being charged with possession with intent [to distribute], when a neighborhood [minority] person would be, for the same quantity of drugs."
Why would black clergy subject black youth to potential prosecutorial discrimination and the destructive effects of a CORI when a more humane civil intervention is possible? The ministers have to answer to the people for this ill-advised policy.