'Voyeurs de Venus' explores a troubling racial legacy
Talia Whyte | 11/5/2008, 5:23 a.m.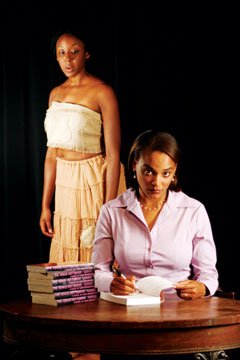 The play's two female leads are both manipulated by the men in their lives. Baartman is taken advantage of by Georges Cuvier, the French naturalist who created detailed drawings of Baartman's anatomy and, upon her death, claimed her body for science, making a wax cast of her genitalia. College professor Washington is pushed by her black lover, publishing bigwig James Booker, to produce a book about Baartman's story that will result in mainstream success, even if it means exploiting the memory of a woman who suffered greatly in life.
Throughout the 37-scene play, audience members get an idea of the hardships Baartman faced and the complexities of her life, as well as how the legacy of degrading imagery of black women continues today in popular culture.
Both McFarlane and Adams agree, however, that more positive images of black women such as Secretary of State Condoleezza Rice and tennis stars Venus and Serena Williams balance out the negative portrayals. The actresses said they hope the play will open up more discussion on the topic.
"Saartjie has a tragic story," McFarlane said. "But we hope black women don't always have to be put into one block. Black women should be seen for what they have, both inside and outside."
"Voyeurs de Venus" runs through Nov. 22 at the BCA Plaza Theatre at the Boston Center for the Arts, 539 Tremont Street, Boston. Please note the play contains some nudity and mature themes.
Tickets range from $15-$38. For show times and tickets, call 617-933-8600, visit www.bostontheatrescene.com, or purchase them in person at the Calderwood Pavilion at the Boston Center for the Arts, 527 Tremont Street, or the Boston University Theatre Box Office, 264 Huntington Avenue.
For more information, visit Company One's Web site at www.companyone.org.