Curing breast cancer on Harvard grad's Agenda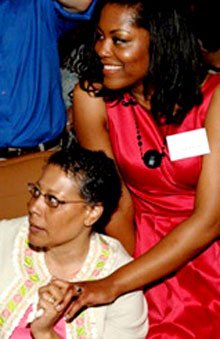 That success has included hosting hip events during New York Fashion Week, as well a large gala in May of this year that raised over $50,000 for the Breast Cancer Research Fund and Susan G. Komen for the Cure.
Building a successful nonprofit takes a lot of work. Because the young organization has no employees, that work falls to Lee and TPA's executive board, who donate not only their money, but also their time to help operate and expand TPA's fundraising efforts.
Sometimes, Lee admitted, the work spills over into her day job as an analyst for the partnership bank Brown Brothers Harrimon and Co.
"My supervisor has been very supportive of my efforts with The Pink Agenda," said Lee. "Sometimes he'll hear me on the phone and think I'm closing a deal when I'm really doing something for TPA."
Lee said her vision for TPA's future includes the organization becoming "synonymous with young professionals and raising awareness and funds for breast cancer research." To that end, the group is branching out from New York to host events in other large cities like Chicago, Washington, D.C., Los Angeles and Boston.
Even as she works to expand TPA's reach, increase its community of donors and establish the nonprofit as a viable organization for the long term, Lee said she remains committed to the group's focus on young professionals — and is even prepared to relinquish control when she is no longer one of them.
"I don't want to be running TPA 10 years from now," she said. "I'll be less able to reach them like I can now."
For more information, visit www.thepinkagenda.org.