'Change has finally come to America'
Associated Press | 11/5/2008, 4:26 a.m.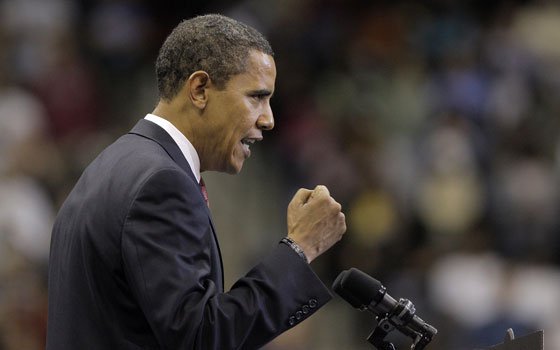 The signs of political inclusion were there during the last month before the election — even in states that Obama ultimately did not win.
In Georgia, for instance, almost 200,000 black voters cast their ballots early and made up a disproportionately high percentage of early voters, accounting for 37 percent.
In Arkansas, polls showed Obama trailing badly in a state that hadn't voted for a democrat since Clinton's re-election in 1996. Bush carried the state in 2000 and 2004. But that didn't stop Arkansas' top Democrats from taking the stage last month to tout Obama's credentials.
Former U.S. Sens. David Pryor and Dale Bumpers, Sen. Mark Pryor, Rep. Mike Ross, Gov. Mike Beebe, former U.S. Transportation Secretary Rodney Slater, and former Gov. Jim Guy Tucker each said Arkansas and the country needs Obama to lead them.
Bill Clinton led the charge. The former president said Obama has the leadership qualities needed to fix the country's financial crisis and stop mortgage foreclosures so people can get credit again. Clinton went on to say that Obama has the best health care plans and can bring an end to the Iraq war, reverse U.S. dependence on foreign oil and reduce global warming.
Obama would win the Nov. 4 election, Clinton boldly predicted, because of what the country has gone through under a Republican president for the last eight years.
"We got to see for most of President Bush's term what would actually happen to America if the extreme right-wing philosophy that he and his allies in the Republican Party had advocated for the last 30 years were actually made real in the lives of the American people," he said.
Though Obama didn't win Arkansas, he did surprisingly well in North Carolina. It was slow at first. More than 45,000 black voters registered in the first three months of 2008, compared with just over 11,000 in the same period four years ago. Blacks make up more than 20 percent of the state's registered voters, according to Board of Elections data.
The increase in black registration helped Democrats in North Carolina to outnumber Republicans by more than 40 percent.
Obama's ability to rewrite Democratic political strategy did not go unnoticed — at least, not in one of his home state's newspaper.
"He's not afraid of challenge," The (Galesburg, Ill.) Register-Mail wrote on Oct. 25. "He's proven he has the mettle to stand up for himself and his country, but he also promises deliberation over rashness. Obama will surround himself with people of varying viewpoints and he will listen to those who disagree with him. He's done that in Illinois."
Of course, Obama was helped by the inept and erratic campaign of his Republican opponent, John McCain. The Arizona senator's choice of Alaska Gov. Sarah Palin was just part of his problem.
"He calls himself a maverick," the Register-Mail explained, "but mavericks are loners and dissenters who take independent stands against the crowd. Mavericks don't chart out a well-planned course and follow it … McCain's campaign, which has been volatile, jerky and shallow, has shown he doesn't understand what the people and country need."
But leave it to a Southern newspaper to capture the moment in their endorsement of Obama.
"This is an opportunity," the St. Petersburg (Fla.) Times wrote, "to turn to a leader from a new generation, someone who has the intellectual depth and inspirational qualities to confront the complicated issues at hand and create a shared vision for a brighter future for all Americans — regardless of their financial or social status."
Material from the Associated Press was used in this report.