As prez race heats up, Dialogues are crucial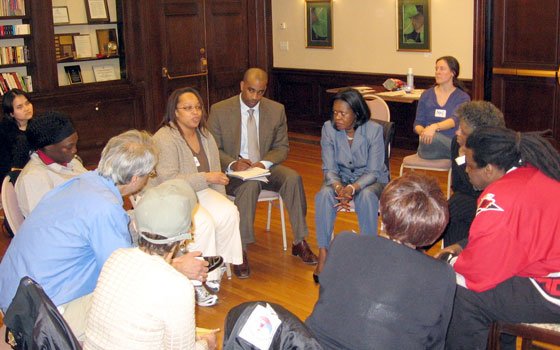 It was a powerful and uncomfortable moment.
"It's a big spotlight on you. You aren't able to hide," she said.
That openness is also an important characteristic of the small-group discussions, which Barnes said provided an opportunity for more in-depth, personal interaction.
"[It was] powerful to be able to bear witness to [what was shared in] smaller conversations," she said.
The dialogues have also motivated other changes — in Li's case, a desire to become better educated about history, which is particularly relevant in her job at a community development organization that focuses on affordable housing.
"When we set policy, [it is important to consider] who we are benefiting," she said. "It enhances the work we do which is based in social equality."
If the national and local conversations are to continue and spread, it will be because participants remain committed to keeping the discussion alive. For her part, Barnes initiated the formation of an online messaging group where members can engage their thoughts with one another in a private space. Suggestions for future sessions include expanding outreach to other ethnic groups, such as the Asian and Latino communities.
As Penley sees it, the key is to take what is shared in those small groups and extend it to larger ones. The lasting impact of the dialogues is felt when it changes participants' vocabulary, enabling them to bring issues of race into everyday discussion.
"Being part of the dialogues group, my conversations with other people have all expanded," she said. "Having an intentional dialogue has opened up the dialogue I have with my friends and community."
For more information about the City-Wide Dialogues or to register for an upcoming series, visit www.bostondialogues.org.