As prez race heats up, Dialogues are crucial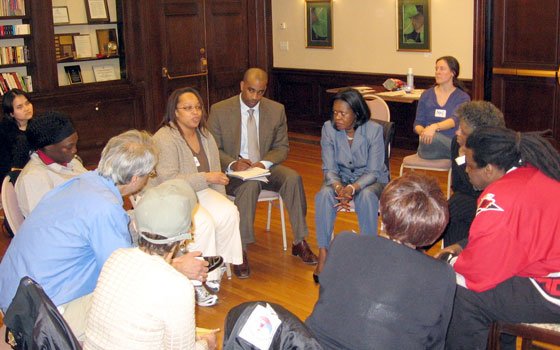 For Hong Li, a 30-year-old Asian American woman from Jamaica Plain, the activity made her consider the range of stereotypes that exist across racial lines.
"[The activity] made me think about preconceived notions [others may have] about me," Li said.
The circle activity also provoked other strong sentiments. When the group was asked if they had "ever felt invisible," Melissa Penley, a white woman who recently relocated to Boston from what she said was a segregated town in North Carolina, considered times when she felt overlooked — or may have made others feel that way.
"I realized that I wasn't seeing [some] people, and thought about times when I was invisibilized due to my gender," Penley said.
The inner and outer circle exercise struck a different note for Simone Monique Barnes of Boston, a woman of African American and Native American descent.
"[The circles] forced us to listen," Barnes said. "We live so fast-paced, with instant messaging, cell phones, the Internet, video on demand, etc., that it's become harder and harder to actually listen, hear and digest what someone is saying. Sitting still in the outer circle made us listen to the inner circle more deeply, because we couldn't chime in, cut them off, or banter back and forth."
Barnes also observed the body language of the inner circle speakers and the interactions between participants, which she said were as important as the words they were saying.
"[Through the exercise], you begin to notice those who have a platform or voice to speak, and those who don't," she said. "Being in the inner circle made you appreciate the ability to be heard."
Another powerful component of the dialogues for Li involved facing the different effects of racism across generations.
"Racism is experienced differently across generations," Li said. "There is both overt and discreet racism."
For example, while Li attended integrated schools growing up, one older participant said her college experience included a requirement that she send a photograph along with the application materials, because she said the school discriminated against people of color.
In addition to engaging participants in conversations that can be uncomfortable, the dialogues also enable people new to the area to connect with others. For recent transplant Penley, who is gay, the dialogues provided a chance to expand her social circle.
"I was interested in getting to know people, not just white girls or white girls in the lesbian community," she said. "Sometimes your world can be so small."
That can lead to a lack of context, which the dialogues seek to provide. Penley recalled one exercise that asked participants to line up straight across from one another, then take a step forward when they could answer "yes" to a question having to do with privilege — questions about whether your family had financial resources available when you were growing up, or whether you had the opportunity to pursue higher education.
By the end of the exercise, Penley said, she was furthest ahead on the privilege scale.